Warriors Congratulates Badou Jack; "The Ripper" Tears Apart Ohio's Collins
Warriors Boxing President Leon Margules wishes to congratulate former Swedish Olympian turned red-hot super middleweight prospect Badou Jack "The Ripper" (9-0, 8 KO's) for his devastating TKO 1 over Adam "Atom Bomb" Collins of Ohio last Saturday night at the Mandalay Bay Resort & Casino in Las Vegas.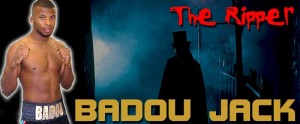 Fighting in front of a huge crowd of dignitaries, Jack began the carnage by dropping Collins with a digging body shot before moving upstairs with power to score two more knockdowns before referee Robert Byrd had seen enough at 2:28.
"Badou was sensational tonight," said Warriors Boxing President, Leon Margules. "He's moved his operations to North America because he's deadly serious about becoming a world champion. Tonight the fans got to see the kind of power he has at his disposal. First he smashed Collins to the ribs and then when he had him afraid of the body shots, he brought it upstairs and put him away."
Margules says he's impressed by the improvement the hard-working Jack has shown since moving to Las Vegas.
"You can see him getting rid of his amateur style and really sitting down on his shots. It's a beautiful thing to watch a young fighter turn into a championship contender fight-by-fight."
Jack is scheduled back in the ring in February in Las Vegas.
Comments
comments