Staff Predictions: Julio Cesar Chavez Jr vs. Sergio Martinez
There's been a ton of buildup to this fight, and now it's finally around the corner. We've talked to the team here at ProBoxing-Fans.com, and compiled our Chavez vs. Martinez predictions to offer you a thorough preview of the fight and what you can expect to see. Can Chavez shock the world? If Martinez wins, will he score a stoppage? Take a look at our collection of Chavez Jr vs. Sergio Martinez predictions to see for yourself.
On fight night, be sure to check out our live Chavez Jr vs. Martinez round by round results!
Scott Levinson: It can sometimes take the fans and the media some time to embrace reality. It seems strange to say that a son of a legend like Chavez, Jr. is underrated with all the publicity and opportunities he has received in his career, but maybe he is. In just a few years, he has matured and improved to the point where he is a big, dangerous, and strong-hitting fighter with durability and guts. Martinez better not just be looking at him as if he's just a coddled son of a legend, even if that's true to some extent.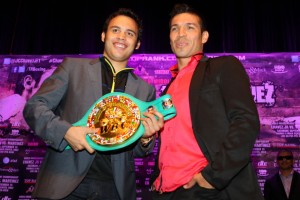 I just think Martinez is a little too sharp, on both sides of the ball. Chavez has never felt the sting of punches that Martinez is able to produce, nor has he met a fighter as athletic or with the legs of "Maravilla." I don't see a one-sided fight, however. Martinez will have to soldier through some difficulty, with the passion and size of Chavez, Jr. giving him problems throughout the fight. At the end, Martinez will cross the finish line with his head in front. Prediction: Martinez by decision.
Rich Thomas: I think this fight boils down to footwork. Chavez is the biggest, strongest, and arguably the most aggressive opponent Martinez has ever faced (I discount Pavlik, who was much diminished by inactivity and alcoholism when Martinez fought him). If Chavez can find his footing, his powerful right hand, pressure, and forward momentum ought to overwhelm and breakdown the smaller, older Martinez.
The question is can Chavez, Jr. keep his lead foot on the outside? My guess is no. Martinez is at least as fleet with his feet as he is quick with his hands, with high levels of mobility providing the foundation for his style. Chavez will always find Martinez just out of position when he tries to unload, and if he tries to fire anyway, he will overreach and Martinez will exploit that to land sharp, stinging counters. Chavez is too big to stand and trade with, so Martinez needs to keep moving and limit himself to short combos. Whether the 37-year-old Martinez can keep up a high work rate for 12 rounds is a reasonable question. Even so, I expect the Argentine's gas tank to hold out long enough to bank the majority of the rounds. Prediction: Martinez by decision
Read Rich's full preview & prediction here

Jake Emen: Usually HBO's 24/7 does an excellent job in promoting a fight, and making you want to buy it. In this case, it's done the opposite. The more I see, the more Chavez Jr. seems to be completely out of his element. Regardless of the hype, Martinez is a master tactician, and Chavez Jr. is wide open to be hit. Maravilla finds and exploits those openings, and scores a late stoppage victory after piling up the punishment from the outset of the bout. Prediction: Martinez by late TKO
Blair Newman: In recent fights, Chavez Jr has demonstrated an excellent chin, good stamina and a high work-rate. For me though, the key to this fight is his jab. He must use this to get inside instead of just walking forward in straight lines while absorbing punishment as Martinez' punches will hurt more than those of Lee, Rubio and Zbik. Martinez will use the full ring and pepper Chavez Jr with his fast hands early on, Chavez Jr will take over with body shots during the middle part of the fight. Still, I just can't see Chavez Jr doing enough to stop Martinez, who will take over down the stretch for a comfortable points decision. Prediction: Martinez by decision

Matt Andrzejewski: Despite having 47 professional fights I believe Julio Cesar Chavez Jr. is still very raw after having been a been a heavy favorite in all those bouts. Martinez will frustrate Chavez with his awkward style, creating angles the young fighter has not seen before. Chavez will get unnerved early when things are not going his way and begin to wildly go after Martinez. Chavez will leave openings and Martinez, an excellent counter puncher, will take full advantage. I look for Martinez to land big counter shots and obtain the early knockout victory he desires. Prediction: Martinez by early KO
Daniel Treasure: I might regret predicting this one, but I sense a shock is on the horizon. Chavez will try for a KO and continuously attempt big shots, and as the fight progresses I think he will get to his opponent. I am going to put it out there and go for a unanimous win to Chavez in a closely contested bout. The further the fight goes on, the longer Chavez will attempt to deteriorate Martinez's body with his thudding shots, and in turn, his boxing brain and his ability to go on his own attack. The Mexican will be faced with his toughest test to date, and provided my prediction is correct, then he is deemed to be labelled the best Middleweight in the world today. Prediction: Chavez by Decision
Edward Fu: Martinez's extremely accurate and powerful punches, along with his superior experience, will be too much for Chavez to handle. Sergio has fought the likes of Paul Williams, Kelly Pavlik and Matthew Macklin, and has defeated them all in similar fashion. However, Martinez's weakness lies in his chin, as he has been knocked down in his career a number of times. If Chavez continues to fight up close as he has with previous opponents, no doubt Martinez will capitalize on this error and punish Chavez. JCC Jr., however, seems to have a strong chin as his father once did, and it may take a lot more to stop him than we think. Therefore, this fight may go the distance and see an extremely close score at the end. Prediction: Martinez  by decision
Chavez Jr. vs. Martinez Predictions Final Tally
Martinez: 6 (4 by decision, 2 by stoppage)
Chavez: 1 (by decision)
Thanks for checking out our collection of expert Chavez Jr. vs. Martinez predictions, and be sure to follow along with us on fight night to see how the fight plays out!
Comments
comments