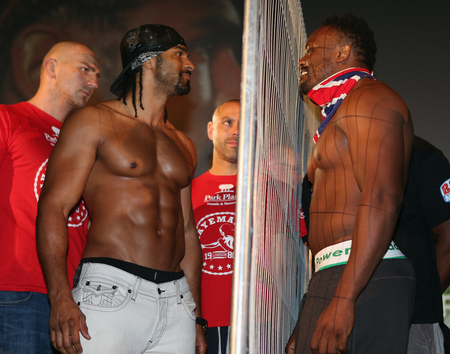 Haye vs. Chisora Round by Round Results & Updates:
On Saturday, July 14, in the British heavyweight grudge match that we were all waiting for, David Haye vs. Dereck Chisora, the Hayemaker made a statement to the rest of the division: he's back. Haye dominated the fight against a somewhat complacent Chisora, finally knocking him down twice in the 5th round before the referee called off the action for a TKO victory. It was a very impressive performance for Haye, and great killer instincts to close the show.
Haye vs. Chisora Round by Round Scores
| | | | | | | | | | | | | | |
| --- | --- | --- | --- | --- | --- | --- | --- | --- | --- | --- | --- | --- | --- |
| Round | 1 | 2 | 3 | 4 | 5 | 6 | 7 | 8 | 9 | 10 | 11 | 12 | Total |
| David Haye | 10 | 10 | 10 | 10 | – | – | – | – | – | – | – | – | – |
| Dereck Chisora | 9 | 9 | 9 | 9 | – | – | – | – | – | – | – | – | – |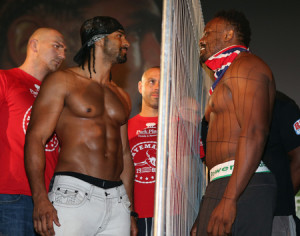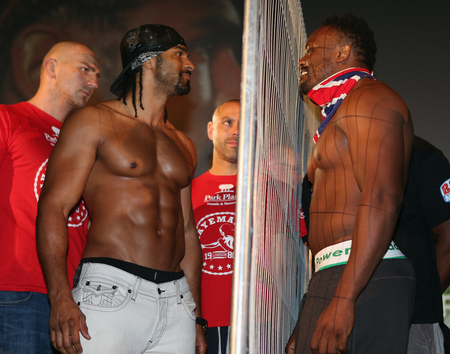 Haye-Chisora Round by Round Results
Rd 1:  Both men come out and start throwing some heavy shots. Haye lands a few clean ones, his hands are just so much quicker, but Chisora is about half again as thick and muscular as the leaner, lighter Hayemaker. Things settle down a bit, and Haye works behind his jab and circles. Chisora walking in and feinting, looking for an opening to heave a huge shot. Round to Haye, clearly, the much busier man.
Rd 2: Chisora comes out quick, but he isn't throwing much. Haye finding home for his big right, and 1-2 combinations as Chisora wades inside. Chisora starts getting frustrated as Haye stays behind his jab. Some after the bell punches thrown, and then jawing at one another. Haye's round again.
Rd 3: Chisora looks a bit more determined here, and gets Haye into a corner, but doesn't land much. Haye bulls his way out, then throws a combination which Chisora blocks easily. Lots of holding and then breaking in the bout. Chisora just isn't throwing enough. Finally comes in winging towards the end of the round, and he lands a few big shots. Haye might be staggered. Wait — some confusion here. The round clock was still ticking but the referee breaks them off and sends them into their corners.
Rd 4: Now Chisora is just trying to go for a bit more. He lands a few nice shots. Then Haye retaliates and starts launching his Hayemakers. Chisora backs off and covers up – is he luring Haye in? He walks forward then lunges with a few big hooks. Haye landing some crisp shots. Chisora has slowed down again. Then ties Haye up and throws some body shots. Close round, for sure, but Haye likely gets the nod again.
Rd 5: Chisora comes in and misses a sloppy shot. Then Haye backs up and lands a huge right, spins around, and lands another big right. He's leading with the straight right now. Haye picking him apart, then Haye pummels him with a right hook that sends Chisora to the canvas. Chisora gets up and holds on while Haye looks to pour it on. He lands a four or five shot combination including a few big hooks, and Chisora gets planted again. He makes it up by the count, but the referee waves it off!
David Haye TKO5 Dereck Chisora!
Very impressive performance by David Haye. That's what we used to expect from the Hayemaker, and if he's going to fight like that, then sure, I'm in to see him take on Vitali Klitschko or Alexander Povetkin, why not?
The two men actually have a gracious seeming exchange after the fight, so I suppose the beef has been squashed. Great win and great performance by Haye.
Event Updates:
5:03 pm – Michael Buffer is giving us the introductions … we have an angry but uneventful stare down, and it's go time!
4:58 pm – The ring walks are underway! Chisora takes a long route into the ring, wearing a hooded robe completely covering his face. It's raining out there, but the ring is covered at least. He gets widely booed by the crowd. Next comes David Haye, and he comes out to Aint No Mountain High Enough, and gets a warm welcome from the tens of thousands in the stands…
4:50 pm – No ring walks yet, stay tuned…
4:30 pm – The EPIX broadcast has begun, with Sugar Ray Leonard in studio with the EPIX team. The ring walks are scheduled for about 4:50 pm, so hopefully everything is on time here and we'll be good to go shortly!
We learn that there's also a $20,000 charity side bet of sorts between the men. Also, don't forget that this is now a 10 round fight, not a 12 round fight.
—
Thanks for checking out our live Haye vs. Chisora results and round by round blog. Be sure to check back in with us soon for more post-fight coverage and analysis, and all of the rest of the breaking boxing news updates you need, right here at ProBoxing-Fans.com.
Comments
comments