Undefeated super middleweight contender Edwin "La Bomba" Rodriguez (22-0, 15 KOs) broke his Houston training camp yesterday and he landed today in Monaco with his team for this Saturday afternoon's "Monte Carlo Million Dollar Super 4" at Casino de Monte-Carlo.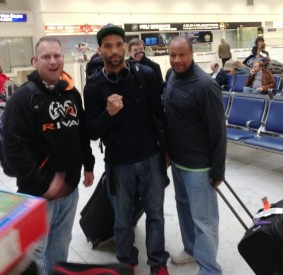 (Photo: Larry Army, manager, undefeated Edwin "La Bomba" Rodriguez, and Ronnie Shields, head trainer.)
Rodriguez, the reigning United States Boxing Association (USBA) champion, meets unbeaten 2008 Argentina Olympian Ezequiel "El Olimpico" Maderna (19-0, 13 KOs) in the opening round of four-fighter tournament, which also includes a light heavyweight fight between two-time, two division world champion Zsolt Erdei (33-0, 18 KOs) and Denis Grachev (12-1-1, 8 KOs). The two winners will advance to the $1,000,000 (60-40 split) "Super Four," championship final, to be contested at a catch-weight of 171 ½ lbs., on July 13 in Monaco.
"We had a great training camp," Rodriguez said before he departed.
"I got in a lot of great work with (world-rated light heavyweight) Cornelius White, who is 6′ 3″ with a long reach. We sparred a lot of rounds. I feel that, since I've been working with (head trainer) Ronnie (Shields), I've become a more complete fighter. I've tightened-up my defense and my offense has been great. There's always room for improvement, though, and the key to getting better is long training camps like this one."
Rodriguez is the No. 3-rated super middleweight in the world in the World Boxing Council (WBC), World Boxing Association (WBA) and International Boxing Federation (IBF), as well as ranked No. 12 by the World Boxing Organization (WBO) and No. 10 by The Ring Magazine.
Fighting outside of his native country for the first time, 2008 Argentina Olympian Maderna is ranked No. 5 by the WBO and No. 13 by the IBF.
"He's a good boxer-puncher," Rodriguez spoke about his relatively unknown opponent. "He resembles Aaron Pryor, Jr. a little. I'm confident going into this fight. I always am because I believe in my ability and skills. I'll be ready Saturday night."
Rodriguez must get past Maderna to fight the Erdei-Grachev winner in the most lucrative fight of his career. The 27-year-old Dominican Republic native, who was a two-time U.S. national amateur champion, won't allow the Super Four championship fight to be a distraction, nor the birth of his third child in a few weeks.
"I'm a professional and I will not allow any distractions," Rodriguez concluded.
"I'm a laid back person and 100-percent focused on this fight. I'm fighting a 19-0 former Olympian in the toughest challenge of my life. I can't afford to look past him or I won't be in the championship fight. The big money in the championship motivates me. I honestly feel the same way going into every fight. Boxing is a tough sport. I need to win and do it impressively to get where I want to be – world champion. Everything starts with this fight."
Comments
comments