WEIGHTS FROM DOVER DELAWARE
Two heavyweights square off against one another in Delaware, with the winner moving closer to being in the mix amongst the contenders in the division, and the loser falling back to the pack. Franklin Lawrence and Mike Mollo stepped on the scales for their pre-fight weigh-in. See the weigh-in results for the card right here, which will be available to be streamed online on Go Fight Live TV.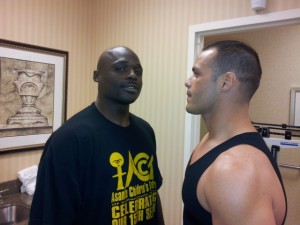 Franklin Lawrence 236 – Mike Mollo 230
(NABA Heavyweight Title)
WBC number-twelve rated Heavyweight Franklin "Ya Ya" Lawrence will battle "Merciless" Mike Mollo in the ten round main event.
Lawrence of Indianapolis, Indiana has a record 17-2-2 with twelve knockouts and his stopped five consecutive opponents such as Contenders Lance Whitaker, former U.S. Olympian Jason Estrada and Jason Gavern that has catapulted to his lofty ranking.
Mollo, 20-3-1 with twelve knockouts of Oak Lawn, Illinois (Just outside Chicago) has faced top competition such as former world title challengers DaVarryl Williamson, Andrew Golota and Jameel McCline.
He has impressive second round knockouts over Art Binkowski and former Mike Tyson Conqueror Kevin McBride.
There is a lot on the line as the NABA title brings a top fifteen ranking between the WBA.
Ronica Jeffrey 126 – Jackie Trivilino 126
(NABF Featherweight Title)
Venue: Dover Downs
1st Bell: 7:30
TV: Wealth TV & GFL.TV
Tune back in later this weekend for post-fight coverage and to see which heavyweight emerges as a guy on the rise.
Comments
comments