World Series of Boxing (WSB) is delighted to announce that two of the most exciting, young French professional boxers will take part in WSB for its third season with Redouane Asloum and Daouda Sow joining the league. Both fighters have also signed up for the AIBA Professional Boxing (APB) World Level when the competition gets underway next year.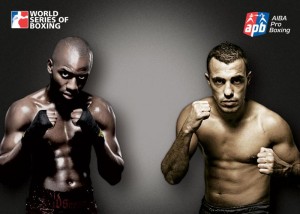 Beijing 2008 Olympic Games silver medalist, Lightweight (57-61kg) southpaw Daouda Sow is considered one of the most talented fighters the country has ever produced and since turning pro in 2009, he has proven his pedigree by winning all of his 12 bouts, with two coming by KO. He will add explosive style and bring his invaluable experience to the USA Knockouts.
"It is all very positive news, I am extremely happy", stated Sow. "I am coming with all my heart to a competition that is very well structured with regular fights. I have been following WSB a lot through Paris United these last two seasons and I was very impressed with both the level of competition and quality of deliverance for fans. It is a good competition for the boxers, but also for the sport of boxing itself."
Redouane Asloum, younger brother of Brahim Asloum, former President of the Paris United WSB Franchise, will add firepower to the Bantamweight (50-54kg) category and will represent the German Eagles this season. His pro boxing record stands at 9-1-1.
"I am over the moon at the prospect of joining such an illustrious competition and to be back training hard", said Asloum.
"Through my brother Brahim, I had the opportunity to follow WSB closely and attend a lot of matches. Every time I just wanted to jump in the ring. The competition structure and schedule are clear and easy to follow. It is the perfect environment to further improve your skills. I cannot wait for the season to start and I am looking forward to the dawn of APB in just a year's time."
The International Boxing Association (AIBA) will be launching APB in autumn 2013, a fully professional individual competition where boxers also retain their Olympic eligibility. APB will revolutionize the world of boxing and will also establish a blueprint for its future development.