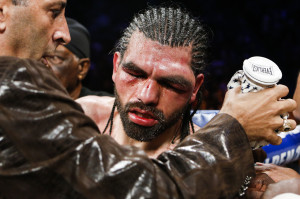 On June 8, we saw Alfredo Angulo put up a good fight, before getting battered into a TKO defeat at the hands of Erislandy Lara. After taking some shots, he turned his back, which caused referee Raul Caiz to stop the bout. His eye was grotesquely-swollen and he went to the hospital with a possible broken orbital bone. Replays showed a wayward thumb may have played a role. Whatever the case, Angulo goes down as a 10th-round TKO loser.
Angulo, 30, has some serious soul-searching to do at this point. The once-unbreakable warrior has now been stopped in 2 of his last 4 fights. The wars are adding up. When a battler like Angulo turns his back like he did to end the Lara fight, it could be a case of Humpty Dumpty falling off the wall.
It's been a tough career for Angulo. He was picking up steam in his career before the well-publicized immigration problems brought his progress to a screeching halt. And as much as we want to see the old "Perro" in there, it hasn't really materialized. It's fair to say the whole ordeal took a little out of Angulo.
He seems a tick slower, almost a bit wooden. He was never terribly fluid, but since coming back, his punches are carrying an extra dose of lethargy. He's not as zippy as before. While still a good fighter, the ruthlessness of his finishing power also went down a notch.
Not to write the guy off prematurely. A lot of good fighters are going to lose to Erislandy Lara–a supremely talented and experienced counterpuncher with a lot of snap on his punches. Angulo was right there, almost even on the cards until the stoppage. So he wasn't that bad, obviously. Throw in the fact that Angulo is one of the surer bets in the sport to provide compelling TV and he will likely receive additional opportunities.
The immigration ordeal and all the wars have left Angulo battle-worn. Sure, it looked like he was thumbed, but it is one of those things fighters have to deal with in the ring, especially a super-macho Mexican warrior like Angulo. It wasn't really his fault, as his face looked like he was attacked by a horde of bees and unless your name is Rocky Balboa–there is no fighting with a face in a state of such shambles. So maybe he was unlucky. Regardless, the mileage is real. In and out of the ring, Angulo has accrued more than his fair share.
I want to be proven wrong. Having guys like Angulo succeed is good for the sport of boxing. He has a good following in the Southland for a belt-less fighter and there is a good reason for that. Fans like to see good boxing, but guys like Angulo provide the wars we all clamor to see in the ring. It just seems like maybe we reached that invisible line in the sand with Angulo, where it's all downhill from here.
Comments
comments