Former junior welterweight world titlist Kendall Holt will be moving up to 147lbs after spending the majority of his career at or around the 140lb weight limit. The move to welterweight is coming at a time in Holt's career where he is in search for the biggest fights he can possibly get.  With a division like welterweight filled with named opponents and the name Holt recognized in boxing circles across the world, it is fitting that the move be made now.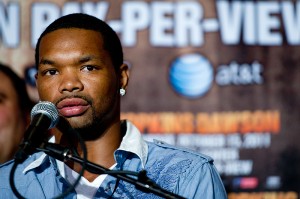 Holt will prepare his body for the change and he believes that it should come more naturally than most, he feels that his body and boxing desires are directly synced up at this stage in his career.
"The time is right for me to make this transition to welterweight, I feel like I've still got a lot of fight in me and what better way to exercise it than to be in a division with so many interesting match ups.  It isn't just what I want, it's also what my body is telling me to do and my body is telling me that I'm going to be a physically better fighter in the move up," Holt explained.
There won't be a shortage of opponents at welterweight with names like Victor Ortiz, Andre Berto, and Timothy Bradley to name a few.  Holt is anxious to start mixing it up and ruffling up the welterweight feathers.
"I'm trying to get as far as I can and I'm looking to make this welterweight run count.  I'm not some kid coming into the division, I am a proven fighter with a recognized name and I'm looking to land some of the most interesting fights that can be made.  The good thing is I the division is stacked 1-10 and I'm looking to knock one of those guys out of their spot."
Holt had publicly pondered the idea of retirement following his loss to Lamont Peterson on Friday Night Fights. However, it's a possibility that without cutting as much weight, and bringing his power up to 147 lbs, he could get and win a few big fights.
Comments
comments