Wladimir Klitschko dominated Alexander Povetkin on Saturday in an HBO-televised clash from Moscow, Russia. But despite the lopsided nature of the bout, this won't go down as an impressive performance, or a signature win for Klitschko.
The Klitschko vs. Povetkin fight was ugly and near-unwatchable, filled with nonstop holding and clinches, and devoid of drama or quality action.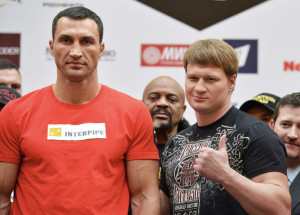 Klitschko knocked Povetkin down with a short left hook in the 2nd Round. In Round 7, he was credited with scoring three knockdowns, although several of them were incorrectly ruled, and were actually pushes or tosses.
That wasn't the only issue which referee Luis Pabon was having difficulty with. He never got control of the fight, and allowed it to regress into a constant stop-start-clinch affair. He eventually took away a point from Klitschko in the 11th Round, but by then, it was too little too late in terms of impacting the fight.
Povetkin didn't win a round, and didn't really appear to be close to doing so. He came out of the gates looking to be aggressive, bulling his way inside and then launching overhand rights.
But Klitschko would get him in a headlock every time, and push down on his head and neck. This tactic wore Povetkin out by the middle of the fight, and Povetkin didn't really have a plan B or another option for how he should go about trying to generate any offense. He was just getting slowly and consistently bashed around by Klitschko.
Official scorecards from the judges read 119-104, 119-104 and 119-104 for Klitschko, who scored the 61st win of his professional career, improving his record to 61 (51) – 3. Povetkin falls to 26-1, losing for the first time in his professional career.
So what's next for Klitschko, and is anybody in the United States going to care? This type of performance won't be winning over any new fans, that's for sure.
Comments
comments