Evaldas Petrauskas, Lithuania's secret weapon
The rising power that is Lithuania has produced some fine boxers in recent times, with these having put in some same amazing performances in this last Olympic era. Two qualified for the London 2012 Olympic Games, Evaldas Petrauskas and Egidijus Kavaliauskas, after both took part in the AIBA Road to Dream program.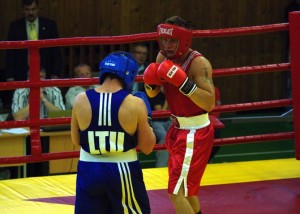 Evaldas Petrauskas, born in Vilnius in 1992, started his boxing career at the tender age of nine. His coach, Vladimiras Bajevas, his best friend, who has trained other top athletes, including 19-year-old Youth Olympic Games winner Ricardas Kuncaitis, has helped Petrauskas develop into a fearsome competitor.
Lithuania has also had a great boxing tradition with Danas Pozniakas claiming the gold medal at the 1968 Olympic Games in Mexico. Since 1991 however, the country has not seen any Olympic medal hopefuls but with Petrauskas and Kavaliauskas both travelling to the British capital, this could be the year it all changes.
2006 was the breakthrough year for Petrauskas, who showcased his excellent skills by taking a valuable bronze medal at the annual European Schoolboys Championships in Nikolayev, Ukraine, before going up a weight class and winning silver at the European Cadet Championships in Siofok, Hungary.
In the European Junior Championships in Bulgaria, the Lithuanian triumphed over his main rivals and won his first European title. He then continued his winning ways by taking the title at the 2009 European Youth Championships in Szczecin, Poland. During the 2010 AIBA Youth World World Championships, he was finally defeated by India's Vikas Krishan in the final but that silver medal in Baku saw him qualify for the first edition of the Youth Olympic Games which were held in Singapore.
At the Youth Olympic Games, in the semi-finals, in his re-match with the Indian boxer, Petrauskas put in a better performance and found his range to triumph over Krishan. In the final contest he was too strong for Australia's Brette Mather and claimed Lithuania's first gold medal in Singapore and shortly afterwards Kuncaitis followed suit and secured the second gold for the Baltic country. Moving up to the elite level, Petrauskas claimed the Olympic quota place at the AIBA European Olympic Qualifying Event Trabzon 2012 by taking the Lightweight title.
Petrauskas and compatriot Egidijus Kavaliauskas, the welterweight No. 1, are now currently training as part of the AIBA Road to London part II initiative. There are high hopes now that after Kavaliauskas's bronze in the Azeri capital last year after having prepared with the Road to Baku program, that these two immensely talented fighters can use the camp as a spring board to ultimate glory.