This Saturday night one of the top Jr. Welterweight prospects in the world will look to stay undefeated as Raymond "Tito" Serrano (16-0, 8 KO's) will take on Angel Rios (9-7, 6 KO's) in the main event of a six bout card at the Tropicana Casino & Resort.
Serrano of Philadelphia had migrated south to the beautiful island of Puerto Rico and sought the services of famed trainer Felix Pintor to help bring Serrano to the next level.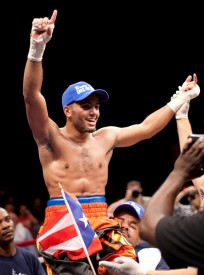 This will be Serrano's second bout in his new weight class as well as his second fight with his new lead trainer.
Pintor is also the trainer of two-divison world champion and future Hall of Famer Ivan Calderon.
Serrano has been training at the Wilfredo Gomez Boxing Gym. With Calderon scheduled for a world title bout next week, Serrano has been training side by side with the former champion.
"Coach Pintor has brought stuff out of me that has made me a better fighter instantly", said Serrano.
"Training next to Calderon has given me so much knowledge and motivation. Between him and my trainer, there is so much to learn and I am just soaking everything in"
"Training in Puerto Rico has made me fully prepared for this fight"
This will be the second fight in the Jr. Welterweight division for Serrano, who fought his first fifteen fights at Welterweight and Jr. Middleweight.
"I was making 147 lbs. very easy and I wanted to push my body a little harder and get down to 140. There are good opportunities in both division but I am bigger and stronger at 140."
Serrano believes that the time is coming for him to become a major name in boxing.
"I have a fight in December and then hopefully 2012 I will fight for a regional title and I will be ready for the big dogs. I can't wait for everyone to see me both live and on Azteca America TV"
The show is promoted by Joe DeGuardia's Star Boxing and Serrano will be the main event on the show broadcasted on Azteca America.
Special fan favorite Vinny Maddalone (33-7, 24 KO's) will battle Mike Sheppard (20-12-1, 9 KO's) in a ten round Heavyweight bout.
Star Boxing's Shamone Alvarez (21-4, 12 KO's) will battle the grizzled veteran Doel Carrasquillo in an eight round Welterweight bout which will open the show.
Super Middleweight prospect Jason Escalera (11-0, 10 KO's) will look to stay perfect when he fights Mickey Scarborough (6-3, 6 KO's) in a six round bout.
Local favorite, Chazz Witherspoon (28-2, 20 KO's) will see action against Ty Cobb (14-2, 8 KO's) in a eight round Heavyweight attraction
Comments
comments