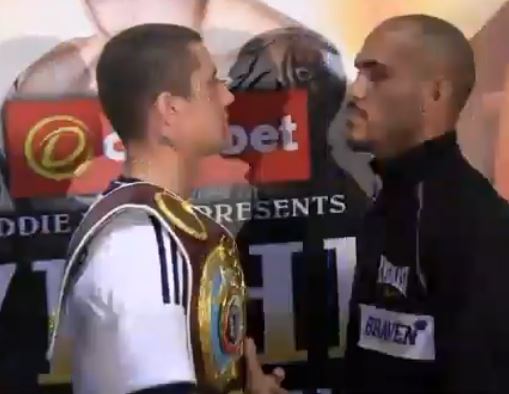 Ricky Burns and Raymundo Beltran came face-to-face for the first time at a press conference ahead of their WBO World Lightweight title clash at the SECC in Glasgow on Saturday night. Right here, you can find the Burns vs. Beltran press conference video, photos, quotes from the fighters, and more.

Burns defends his title for the fourth time against the Mexican and hot off the back of his exhilarating defense against Puerto Rican danger man Jose Gonzalez. The Coatbridge star dug deep after a tough examination in the first seven rounds to keep hold of his belt when Gonzalez retired on his stool before the tenth, and Burns expects another hard test on Saturday.
"I've known that this is going to be a tough fight and there may be times that I have to dig deep but I am prepared for a hard twelve rounds as I always am," said Burns. "I've watched Raymundo box a few times and I've got a DVD of him, we've been working on a plan we think will work and everyone knows that I can box in many different ways, but I plan on instigating the fight on Saturday.
"When I watched the fight back, Jose Gonzalez was a lot better technically than we thought he was going to be. Just from his record we knew he was a big puncher with the knockouts, but we couldn't get any footage of him, the only thing we saw was the KO's on YouTube. We were expecting him to come out firing and try to drag me into a fight, your typical South American fighter who wants to come out and set the pace and pour it on to you.
"But after watching it back, he was on the back foot a lot more than I thought he'd be. I was lunging in and trying to force the pace and looking back now, I can see what I should've done.
"For this fight, we've gone back to basics a bit and we're making sure that doesn't happen again. It wasn't a struggle, I got caught with some shots that I shouldn't have, especially in the seventh when he hit me with some big punches, but I fired back and I was always in there – even in the corner when they were asking how I was feeling, I felt that he was stealing the rounds when I was lunging in and he was catching me with punches that I shouldn't have been taking because I was trying to drag him into a brawl.
"That's not like me at all and I think that all the inactivity and frustration was pouring out, the preparation was great but getting in there and fighting is totally different to being in the ring of course. But I think I have learned more from that fight than I would had I just walked through him and knocked him out early.
"I'm a fighter and I'm going to give it my all and although I wasn't getting it all my own way, when he didn't come out for the 10th round, the judges all had me behind but I trained for 12 hard rounds and I would've still been in there in the last round working hard.
"I took some big shots in the seventh – my legs went at one point for sure – but it's not in my nature to give up. I started firing back and I think that round tired him out trying to knock me out. I've got a good chin, I can take a shot, and I showed that I've got a big heart because things weren't going my way but I dig deep and got the win.
"When he had me on the ropes in the seventh and he was teeing off, when I started firing back it's the first time I really paid attention to the crowd because it was quiet up to that point but the place erupted when that happened and they really got behind me.
"A boxing ring is a boxing ring, it doesn't matter where you are, but that's one of the only fights I can recall where the crowd have really spurred me on to save the fight really. The SECC is great, I boxed here against Kevin Mitchell and the crowd was buzzing that night, and I'm hoping it'll be like that this weekend."
Comments
comments