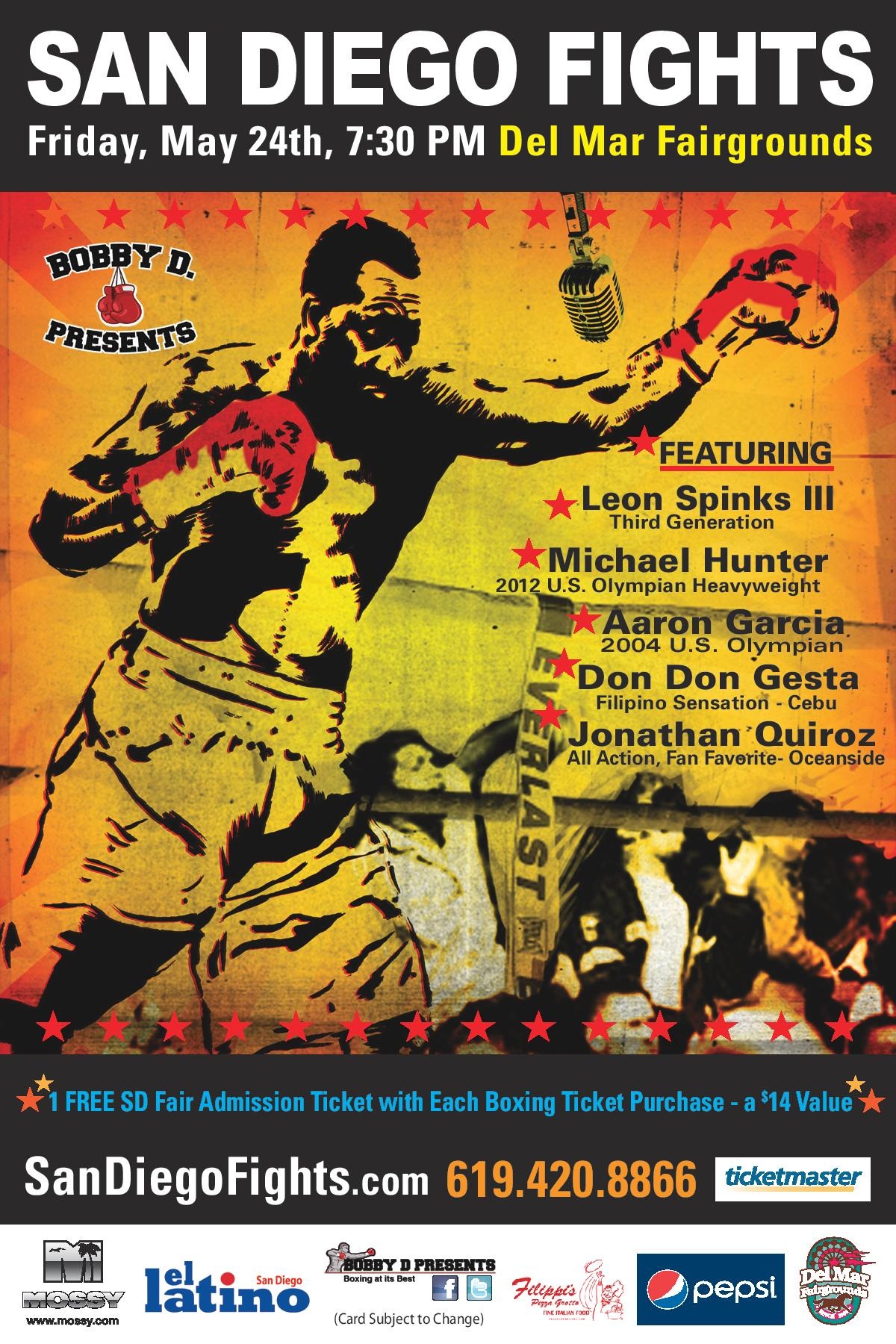 With two fight cards under its belt this year, Bobby D Presents will now stage its biggest event to date this year on Friday, May 24th, when "San Diego Fights" makes its debut at the historic Bing Crosby Hall at the Del Mar Fairgrounds.  Known for its all-action bouts filled with explosive match-ups, Bobby DePhilippis guarantees that the upcoming card, the first of seven exciting monthly shows scheduled at the fairgrounds this year, will be no different.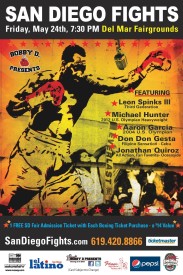 As an added bonus, fight fans will receive one FREE 2013 San Diego County Fair admission ticket with every boxing ticket purchased, a value of $14.
Featured in the main event will be Vista's Aaron "Gavilan" Garcia (10-3-2, 2KOs) as he returns to his hometown in a featured featherweight six rounder. A rising pro, Garcia is best known as one of the most decorated amateur fighters to come out of San Diego with more than 150 fights, multiple Golden Gloves titles, a silver medal at the Pan-Am Games and a spot on the 2004 U.S. Olympic team as an alternate.  Garcia is coming off a closely disputed and controversial split decision loss to Manny Pacquiao-backed Bernabe Concepcion but now with Bobby D Presents leading the way, he is ready to make a run for the title.
The co-main event features southpaw lightweight Leon "Third Generation" Spinks III (4-0-1, 3Kos), originally of St. Louis, will be pitted against the tough as nails Alejandro Ochoa, a veteran of five fights.  Spinks III, grandson of former heavyweight champ Leon Spinks, nephew of former world champion Michael Spinks and cousin of former world champion Cory Spinks, is a recent addition to the Bobby D Presents ranks. He has since fought twice in Tijuana scoring two impressive knockouts in the second and first rounds respectively. Ochoa, from Bell Gardens, will certainly put up a fight in an attempt to ruin Spinks III's San Diego debut in the scheduled four round contest.
Another fighter showcasing his skills for the first time in San Diego will be Anecito "Dondon" Gesta, Jr. (2-1) originally from Cebu, Philippines, but now fighting out of San Diego.  The southpaw Gesta Jr., a nursing student back in his home country, is the younger brother of world-ranked and former title challenger Mercito "No Mercy" Gesta. A veteran of multiple combat sports such as Muay Thai and MMA, "Dondon" is now concentrating on boxing and chose San Diego as his home based on the way "America's Finest City" embraced his older brother Mercito since his arrival some years ago.  Gesta, Jr. has a lot to prove when he faces Los Angeles first-timer Kenny McClain in a scheduled four round bout.
The card is supported by local flyweight favorite Jonathan Quiroz (4-1, 1KO).  Never in a bad fight, Quiroz is coming back from an early knockdown to stop the game Javier Barragan in three rounds last month.  Now Quiroz will be ready to set the room on fire on May 24th.
One more bout will be announced shortly to complete the undercard.
"San Diego Fights" will be staged within the legendary Bing Crosby Hall, located at the Del Mar Fairgrounds, 2260 Jimmy Durante Blvd, Del Mar. This all ages event is sponsored by Mossy Auto Group, Filippi's Pizza Grotto, Pepsi and El Latino Newspaper. For information or tickets, please visit SanDiegoFights.com. Doors open at 6:30pm with the first punch thrown at 7:30pm.
Comments
comments