Two-time Ukrainian Olympic gold medalist Vasyl "The Great" Lomachenko will jump into the deep end of boxing's international-sized swimming pool when he makes his professional debut in a 10-round featherweight bout against Jonathan Oquendo (23-3, 16 KOs), of Puerto Rico.
Lomachenko's pro debut, one of the toughest pro debuts for an amateur fighter in oh, the last 100 years or so, will be showcased on the pay-per-view undercard of the WBO welterweight championship fight between undefeated defending champion Timothy "Desert Storm" Bradley and four-division world champion Juan Manuel "Dinamita" Marquez.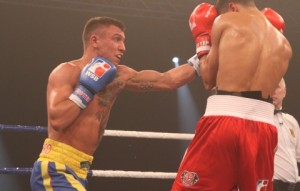 "Lomachenko must have a lot of confidence making his professional debut against a fighter like me. He must think he's really good. Let's see what happens in the ring," said Oquendo.
"Vasyl 'The Great' Lomachenko has been the most outstanding boxer in the history of amateur boxing, now we will see if he can become the greatest professional boxer of this era," said Hall of Fame promoter Bob Arum.
Lomachenko first gained international renown by winning gold medals in the 2008 Beijing Olympics and the 2012 London Games as a featherweight and lightweight, respectively. Known for his all-out aggressive style of boxing, Lomachenko is equally aggressive in plotting his professional boxing plan to a world title where he insisted on making his pro debut in a 10-round bout against a seasoned veteran where a victory could propel him to a Top-10 world rating. He certainly has that in Oquendo whose seven of his last eight victories have been by knockout.
Since his team in the Olympics, Lomachenko had been competing in last season's World Series of Boxing competition.
Comments
comments