The third episode of Floyd Mayweather vs. Miguel Cotto 24/7 debuted on Saturday night on HBO. While there was plenty of actual live fights to take in on the network, Mayweather-Cotto 24-7 is always must watch television as well. As always, we were on hand to provide you with this overview and recap of what happened in episode 3 of Mayweather Cotto 24 7.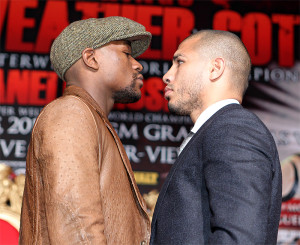 Mayweather-Cotto 24/7 Episode 3 Overview
For those who question whether the blissfully unaware Floyd Mayweather Jr. is, in fact, without a functioning human soul, the beginning of the broadcast should lay all concerns to rest, officially.  Floyd has strayed from his usual regimen of going to bed as the sun rises over the dessert to selflessly participate in a 5k run to benefit Habitat For Humanity.  Coming from the hardships he experienced, Floyd will no doubt take this seriously and see his involvement as a huge boost to a great cause … or, he'll just play it up as we've all come to expect.  Philanthropist Floyd is humbled as the man with the megaphone and starter pistol—completely unrehearsed—announces Floyd's involvement as well as his donation of 100k toward the cause (we come to find he keeps more in casino chips in his car's cup holder, later).  Floyd echoes how great he is, stressing how much he gives and how money doesn't make him—he makes money.  Materialism is only something who people that don't want to work make up; beauty is a lament of the ugly.  He's so deep.  Floyd even takes time to cheers on stragglers, calling one runner "Pacquiao".  A Jeremy Lin reference probably would've been more topical.
After doing his good deed for the decade, Floyd does some light shopping with his entourage, "Team Money," and the bullet-proof, 50 Cent.  Like anyone who spent their morning raising money for Habitat For Humanity, Floyd and 50 Cent spend the afternoon ripping on Miguel Cotto and trying on motorcycle helmets, two of which they end up purchasing. Still in his helmet, St. Floyd of Vegas continues his charitable ways, dropping $10,800, in cash, on his fiancée's shopping needs.
Meanwhile, in Orlando, Miguel Cotto is training in what looks like a converted warehouse now doubling a gym on a rainy afternoon.  There is likely not $10,800 worth of equipment surrounding him.  Visibly humble, Cotto focuses on how hard he's been training to face Mayweather who is the seventh undefeated fighter he's faced in his career.  Trainer Pedro Diaz has Cotto sparring eight rounds, off camera.  Interestingly, during this training session, doctors administer blood tests after the sixth round to monitor Cotto's lactic acid build-up and muscle endurance heading into the fight.  The results aren't made known to the camera, but the docs seem optimistic with what they've seen in the test.  Cotto looks to be in great condition and focused as much as he was headed into the Margarito fight.  All of Puerto Rico is behind him.  Cotto feels he's fighting for every Puerto Rican.
Back in the dessert, Floyd rolls up to the gym after a long weekend giving of himself in a Ferrari.  Always the socially conscious, we're treated to an awkward and slightly uncomfortable recount by Floyd of Cotto touching a man's rear end.  Classy television at its best.  Philanthropist Floyd follows his posturing on Cotto's actions by breaking out a stack of cash that, from any distance, resembles two phone books staked horizontally.  He cares for Cotto's comfort and wants to pay for him to live in luxury—down comforter and all.  Floyd wants Miguel to be comfy before the fight, because he'll make him uncomfortable enough next Saturday night.
When it comes down to actual training, Mayweather looks sharp and ready.  There's no sense of distraction or loss of composure.  He's not taking Cotto lightly, despite the trash talk.  Uncle Roger makes his first appearance of the broadcast and agrees.  Insists that Floyd is sharper for this fight than any other aside from Diego Corrales, in 2001.  In that fight, a 24-year-old Floyd handed then 33-0 Corrales his first professional loss.
Later that evening, Mayweather cruises the Vegas Strip with Uncle Roger, waxing poetic on their history together over a burger and fries.  The two cagey veterans focus on their sixteen years together and marvel over what has been accomplished.  Floyd asks, then answers, the question of how many fights he believes he has left in him at this stage in his career.  The number in his mind is five, with one more occurring before the end of the year, despite the three months off of training while in prison.  A riveted Uncle Roger withholds comments and falls asleep in the car.  Floyd takes the opportunity to once again talk-up his uncle's influence and what he's given him over the years.
In Orlando, Pedro Diaz has Cotto running on the track for endurance training at the crack of dawn.  Cotto is ready for 12 rounds.  Cotto may have the most adorable dog in the history of dogs.  The focus now shifts to Diaz and his story, set against the backdrop of a game of dominoes with old friends from Cuba.  Including Odlanier Solis, 2004 Olympic gold medalist in the heavyweight division, now training under Diaz.  Diaz, who defected from Cuba in 2007, speaks of the opportunities afforded Cubans in the US.  He's now part of the biggest fight of 2012, taking Cotto into the MGM Grand Arena next Saturday night.  Diaz is very humble and knows his place in the business.  Admittedly, he's still a student of the sport.  Recognizes what he still has to learn.
Somewhat less quietly, we transition back to the "Dog House"—the ring in the center of Mayweather's gym back in Las Vegas.  Mayweather runs the gym like "Fight Club," making sure the ring is in use at all times.  There's a sense of sheer joy on Floyd's face as he watches the sparring.  The glee is cut short when Floyd leaves for a routine, pre-fight eye exam.  Although he passes with flying colors, a set of freshly dilated pupils wrecks his day, apparently.  Though this gives Floyd the opportunity to purchase Burberry sunglasses and dust off an impromptu Stevie Wonder impression.  And, drive home.  With dilated pupils.  Can't imagine that's legal in Vegas, although there's a good chance that it doesn't crack the top-thousand in crimes being committed at that moment.  Ignoring his optician's orders, Floyd returns to training once he gets back to the gym.  It's a scene out of "Rocky III."  Mayweather plays up that he can't see anything, yet doesn't miss the speed bag.  The mouth never stops.  It's amazing.
Returning to Orlando one final time, the Cotto home is setting to a wonderful, homemade feast of Mexican and Puerto Rican dishes prepared by Miguel and his family.  Everyone from team Cotto is enjoying each other's company and celebrating what has been accomplished thus far in camp.  The influence of Cotto's father's is discussed, following his untimely passing two years ago.  Mech Tech Don Miguel training facility in Orlando is named for him.  Cotto is introspective talking about the influence of his father and how he feels it was his father's approach to the sport that was responsible for putting him in the position he is today.   Great perspective on losses—falling lets you get back up again.  Cotto wakes up every day with a better mind because of this perspective.  In contrast, Floyd announces that he never thinks about another guy in the ring being victorious.  Doesn't believe it is "cocky" or "overconfident."  Rather, to Floyd, it's just "believing."
Thanks for checking out our recap of Mayweather vs. Cotto 24/7 episode 3. The fight itself is just a week away now, so we can finally put aside all the hype and buildup and get onto the action soon enough. Don't forget, on fight night, you can check out our live Mayweather vs. Cotto results & round by round coverage!
Comments
comments