Weigh-in results from Queens: Maddalone headlines
Published Dec 08 2012 by: ProBoxing-Fans.com
---
Tonight at the Resorts World Casino in Queens, New Legend Boxing, Old World Boxing and W.O.N. Promotions present a night of boxing action, headlined by Vinny Maddalone, and featuring prospects such as Frank Galarza and Juan Dominguez. Take a look at the weigh-in results right here, action starts at 6pm this evening.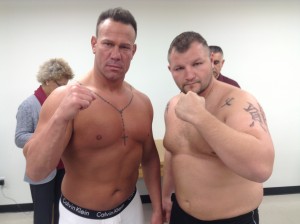 Vinny Maddalone 231 1/2 vs Byron Polley 268 ½
Angel Garcia 134 vs. Victor Galindo 133
Neuky Santalises 131 vs Micah Branch 132
Rob Garris 171 vs Abdellah Smith 174
Heather Hardy 122 vs. Ivana Coleman 123 ½
Bryant Cruz 129 1/2 vs. Jonathan Caban 130
Frank Galarza 152 vs Roberto Lopez 152
Juan Dominguez 121 vs. Jhon Alberto Molina 120
Tickets prices are $50 General Admission, $125 Ringside and $225 VIP (Includes Open Bar & Buffet) and can be purchased by calling New Legend Boxing 718-487-4474 and/or logging on to www.NewLegendBoxing.com
A portion of the ticket proceeds will be donated to the victims of Hurricane Sandy
---> Join the community. Discuss & debate with fellow boxingheads.
Boxing Buzz: Most talked about topics