A list of six approved opponents for Floyd Mayweather's exclusive Showtime contract has been made public, including a few obvious candidates, such as current foe Robert Guerrero, and likely upcoming opponent Saul "Canelo" Alvarez, as well as a few less likely names — such as Marcos Maidana and Alfredo Angulo. The final two names rounding out the list are Danny Garcia and Devon Alexander.
While some individuals seem to believe that this means that Mayweather will specifically fight these six fighters in the next 30 months, completing his six-fight contract with Showtime, in truth, this list means absolutely nothing.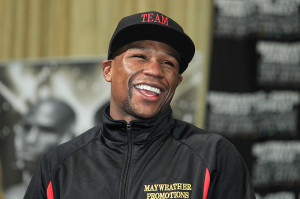 A list of "approved" opponents is quite common for fighters competing on one of the major television networks, particularly when they are locked up into a deal, such as Mayweather is here. The network doesn't want to be trapped and see the contracted fighter take on an unworthy or unknown opponent, and pay him a ransom to do so.
Having these six names approved as opponents right now doesn't mean anything, however, and they certainly don't lock in Mayweather's next six fights. Guerrero and Canelo are the obvious 1-2 punch here, but after that, it's anybody's guess who Mayweather will fight.
[Also See: Mayweather's 6 fight plan to all-time greatness]
The other four names are fighters in and around the division, who are promoted by Golden Boy, and don't have an exclusive television home anywhere else. That's it.
In other words, these are simply a few names they can toss together into a ring with Maywweather without hassle if they can't figure anything else out.
By the time Mayweather is finished with Guerrero and Canelo, and he's looking at a fight for next May, all of these fighters could be coming off knockout losses. Or momentum and interest could – and should – be building in a plethora of more legitimate fights for Mayweather.
Interpreting these names as anything else besides what they are — Golden Boy fighters without obligations who can fight on Showtime at 147 or 154 lbs — is short-sighted at best.
Comments
comments