Julio Cesar Chavez Jr. has sustained a cut while sparring in training camp. The injury, though minor, will keep Chavez on the shelf for a few weeks, and will force the postponement of his scheduled comeback fight against Bryan Vera.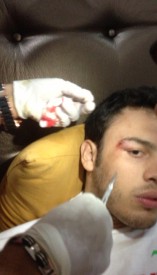 Chavez posted the news himself on his Twitter account, sharing the photo you see here, and adding this:
Just a couple stiches, but Doc says I'll be ready to go back to Sparring in a few weeks!
Officially, Chavez will need three weeks without contact, allowing the small cut on the corner above his right eye to heal up. Of course, in the case of these types of fights, you always wonder if it will really be rescheduled, or if the attraction, in this case Chavez, seeks something bigger or more intriguing. We'll have to wait and see on that one.
Unfortunately, that also means the highly intriguing clash between former US Olympians Demetrius Andrade and Vanes Martirosyan is off for the time-being as well. That was going to be a great fight between young fighters looking to win a title and take that next step, so hopefully that comes back together as soon as possible as well.
Stay tuned for any further updates or official announcements regarding the Julio Cesar Chavez Jr injury, when his next fight will be rescheduled, and whether or not it will still be against Vera.