Julio Cesar Chavez Jr's return begins against Bryan Vera:
After nearly a year off, Chavez, Jr. returns to the ring in September to face contender Brian Vera, 23-6 (14 KOs) in Las Vegas. Though only 27, Chavez, Jr. is now a veteran who at 46-1-1 (34 KOs), moves up to fight in a division filled with dangerous fighters. Will he find the going easier at 168? Would he still be available for a big fight at 160 if it materialized?
What should we expect from Chavez Jr as he ends this long, forced layoff, filled with plenty of outside the ring drama, and returns to action?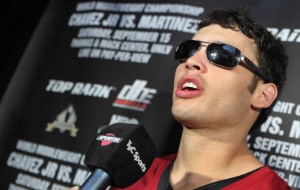 Coming in at 158 for his challenge of Sergio Martinez, it would seem that the prodigal son would still be able to make 160, even if weighs 175+ by the time he enters the ring. Considering the late-rounds drama of his fight with champion Sergio Martinez and Martinez' subsequent close-call against Martin Murray, you would think Chavez would be pushing for that rematch.
Who knows, maybe it's still in the cards. Either way, Martinez is on the shelf with another round of surgery, and Chavez needs to get some mojo back, hence the Vera bout ot begin with.
Chavez, Jr. at 168 does present an interesting list of possibilities. At the same time, does anyone think he'd stand a chance against Andre Ward? A bout versus Carl Froch would be interesting, but it's still a fight where you would have to favor the "Cobra."
Super middleweight is a good division, but it's also top-heavy. Chavez, Jr. could still make waves at 168 lbs, but he would likely go after the second-tier of contenders, which in today's screwed-up age, is probably good for a couple titles.
Hats off to Chavez, Jr. for taking on a real toughie in Vera, a fighter who is better than his record looks. At the same time, Vera is a middleweight, so it's hard to gauge Chavez, Jr. as a viable 168-pounder solely off this performance. Some of us first saw Vera in an inglorious state–knocked out in 2 rounds by Jaidon Codrington in the Contender series. He upset former Chavez victim Andy Lee in 2008, before losing a lopsided rematch in 2011. Following the Lee win, Vera lost 3 in a row–to James Kirkland, Craig McEwan, and unheralded Isaac Rodriguez.
Vera then knocked out Canadian Sebastien Demers, before losing a decision to Max Bursak in Ukraine. It's what he's done since that makes him a semi-legitimate contender. He defeated Sergio Mora by decision, before losing the rematch to Lee. He then put together nice wins over Mora (again) and in his best showing this past January, stopped 37-1-1 ex-champ Sergei Dzinziruk. In his last fight, he stopped Donatas Bondorovas.
So Chavez, Jr. doesn't have it easy, as he faces an ambitious fighter who is battle-tempered from all the ups and downs of a wild career in which he hasn't been coddled. The question isn't so much about Vera. We all know what he brings to the table–a gritty, hard-hitting style. The question is what Chavez, Jr. has in his tank and head as he gets into the latter half of his career.
There are some obvious points of concern. Losing to Sergio Martinez in itself is no disgrace. Still, Chavez. Jr.'s performance in the first 11 rounds was telling. He didn't really look world-class as Martinez easily outboxed him. He deserves massive credit for so graphically reversing the tide against a really good fighter when nothing was going his way. But that 12th round drama may have done more to make people forget all the liabilities he showed in the first 90%+ of that fight.
At 168, he may never be able to climb to the top of the mountain, as long as Andre Ward is running things. At middleweight, the picture is a little rosier. Martinez is still champion, coming off an injury and another tough fight. If he could somehow secure a rematch, there would be considerable interest as well as doubt.
It all depends on which route they want to take. If they try to snag "titles" against the best-of-the-rest, that's one thing. If he wants to become the best at some point, he's going to have to mix it up with guys he might not be able to beat. Even Chavez, Jr. fans and apologists can't possibly fancy his chances against guys like Ward or Gennady Golovkin. There is really nowhere to hide between 160 and 168.
While Chavez, Jr. has exhibited a hunger that is beyond most sons of famous millionaires, it takes a special breed of cat to make it in this business. Kids who grow up in squalor don't get sloppy with their preparation leading up to their signature fight, as Chavez, Jr. appeared to do in the Martinez bout.
He is now working with his father as a trainer, which might not be such a bad thing. Still, he was working with Freddie Roach and turned Freddie off so much with his lax training habits, that it appears Freddie reached the end of his patience with Chavez, Jr.
You throw in the positive drug test for marijuana following the Martinez fight and it makes you wonder. What kind of fighter is smoking weed in the days leading up to the biggest fight of his life? What kind of fighter makes Freddie Roach wait 6 hours at a gym for him? What fighter has an HBO crew in his house and wakes up at 5 p.m. looking like he's coming off a 3-day Vegas bender? It makes it hard to gauge the future prospects of this young man
Talent-wise, he still has a chance to do some meaningful things. You just can't help but think that with Chavez, Jr.–it will come down to his attitude.