The breakout performance category for 2012 was littered with qualified candidates.  Boxers broke out on the scene in 2012 with spectacular knockout victories and unforeseen upsets.  But this year's breakout performance of the year comes from a rising star who put on such a performance that many in the sport proclaimed him as boxing's next superstar, as he vaulted himself to the top of his division and into pound for pound discussions with one single, dominant showing.
Breakout Performance of 2012 – Adrien Broner TKO8 Antonio DeMarco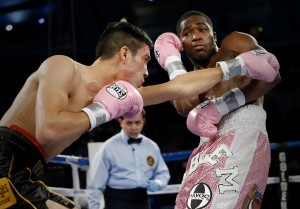 Adrien Broner and Antonio DeMarco faced each other on November 17th in Atlantic City for DeMarco's WBC Lightweight Championship.  Coming into the fight, Broner was considered to be a young, rising fighter who had shown flashes of star qualities against inferior opponents.
Meanwhile, DeMarco was an established Lightweight champion and thought to be the stiffest test so far for Broner.  Many experts were even predicting that the sharp puncher DeMarco had the necessary skill set to upset Broner.
However, Broner put on a dominant performance that still has the boxing world buzzing.  He showcased speed and power in his combinations that left the talented DeMarco befuddled. In the 5th round alone, Broner out landed DeMarco 54 to 7 according to CompuBox.
Broner closed the show in scintillating fashion in the 8th.  The round began with Broner landing several more hard combinations to both the head and body of DeMarco. A left uppercut that landed after one such combination finally sent DeMarco backward and onto the canvas.  DeMarco's corner instantly jumped onto the ring apron and the referee would call a halt to the bout giving Broner the signature victory of his young career.
Adrien Broner showcased tremendous hand speed, boxing ability and punching power in his dismantling of Antonio DeMarco.  The performance showed that Broner possesses rare talent not often seen in prizefighters.  And is why his fight against DeMarco is this year's breakout performance.
—> Check out the rest of our 2012 Boxing Awards!
Honorable Mentions
Danny Garcia TKO4 Amir Khan
Danny Garcia faced Amir Khan on July 14th in Las Vegas for the Junior Welterweight Championship.  Though Garcia was undefeated entering the fight this was supposed to be a showcase for Khan.  As a matter of fact, Khan would enter the ring as more than a 4 to 1 betting favorite.
After two rounds, the odds makers seemed to be dead on in their assessment of this fight.  Khan had used his speed and boxing ability to build an early lead on the scorecards.  But in the 3rd, Garcia would land a counter left hook that would floor Khan and ultimately change the course of the fight as well as the careers of both men.
Khan never fully recovered from the brutal left hook landed by Garcia and would be finished off in the next round.  Garcia instantly was lifted to the top of the talented and deep Junior Welterweight division with his sensational knockout win.  And by going to the top in such dramatic fashion, it earned him an honorable mention for 2012 breakout performance.
Austin Trout UD12 Miguel Cotto
Austin Trout faced Miguel Cotto on December 1st at Madison Square Garden in New York for Trout's WBA Junior Middleweight Championship.  Though Trout was a champion he had not faced anywhere near the quality of opposition had Cotto. And most experts believed it would simply be a matter of time before Cotto imposed his will in this fight.
However, Trout never received that memo.  He proved to be much faster than Cotto with both his hands and feet.  Trout was able to out box Cotto for 12 rounds and earn a surprising unanimous decision victory.  The win finally earned Trout the respect he was seeking and shot him quickly up the rankings in the Junior Middleweight Division.