As ProBoxing-Fans.com completes the entire collection of 2012 boxing awards, it's also time to focus on the British fight scene. Right here, you'll find a round-up of the 2012 British boxing awards, including the top British fighter of the year, prospect of the year, fight of the year and more. Take a look.
British Fighter of the Year: Carl Froch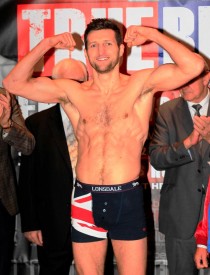 Beginning 2012, Carl Froch was considered by many to be entering the twilight of his career. Having negotiated a difficult hurdle of fights with world-class men during the course of the Super Six tournament, he completed his journey by being comfortably beaten by Andre Ward.
It wasn't the way "The Cobra" envisioned going out so, at 34 going on 35, he accepted the daunting challenge of welcoming the undefeated Lucian Bute to his hometown of Nottingham. Froch admitted after the fight that he would have seriously considered retirement should he have lost.
He needn't have worried. Froch proved the doubters wrong again by storming through Bute, stopping his foe in five rounds with his body sagging against the ropes and his senses departed.
A three round demolition of the over-matched Yusaf Mack followed, but it is the Bute fight that Froch's year will be remembered for, and his legacy is also deeply enriched because of it. Froch took the risk and grabbed the ultimate reward. His name will be remembered in British boxing history for a long time as a result.
Prospect of the Year: Carl Frampton
Carl Frampton was a highly touted prospect at the start of the year. Barry McGuigan lauded his talents and publicly called for Frampton to be given the opportunity to show them on a bigger stage.
If 2012 was the acid test, Frampton passed with flying colors. He began by successfully defending his Commonwealth super bantamweight belt against decent domestic opponent Kris Hughes and Prosper Ankrah of Ghana, both by stoppage, before hitting the gas and decisioning tough Mexican Raul Hirales on the undercard of Carl Froch's defeat of Lucian Bute.
Frampton then made the leap from prospect to contender status by stopping former titleholder Steve Molitor in his hometown of Belfast. Although Molitor was past his best by this point, the way in which Frampton tore through him with the perpetual motion of a whirlwind was impressive. Simply for making such a big step up look easy, Frampton is well deserving of this accolade.
Fight of the Year: Derry Mathews TKO6 Anthony Crolla
Sometimes the styles of two fighters mix just perfectly in the boxing ring. When then British lightweight champion Anthony Crolla met the experienced Derry Mathews, this is exactly what happened. Crolla was on course to pick up the Lonsdale belt outright by defending his British title for a second time (to win outright, it must be defended three times). Mathews, although just 28, bore the brunt of several wars and knockout defeats.
Crolla began the contest with the authoritative air of a young champion, stalking Mathews and ramming crisp, sharp jabs into the nose of his taller opponent. This continued for the opening two rounds, as the rangy Mathews looked to set himself.
With a ferocious pace being set, the third saw Mathews penetrate Crolla's tight guard with a piercing right uppercut. Suddenly, the tables had turned. Crolla moved and tried to fight back off the back foot, unable or unsure of hot to tie up. Mathews surged with gaining confidence, strafing Crolla with straight right hands. Crolla ended the round on top, pressing Mathews against the ropes once more, his head seemingly clear again.
Crolla continued his forward march in the fourth, but Mathews had found the appropriate key for the lock, and it was now becoming more and more a case of him simply biding his time for the right opening to appear. With Mathews landing at an increasing rate, a slick cut across Crolla's left eyelid appeared.
With blood now pouring down one side of Crolla's face, he launched his attacks with the intensity of a man who knew he was perhaps close to being stopped. Crolla forced his way inside, put his head on Mathews' chest and dug in bodywork and uppercuts. Mathews was hurt by a left hook to the body, but Crolla was still staying on the end of Mathews long-limbed shots.
Come the sixth, and Mathews seemed to be on his last legs and, with his mid-section aching his output lowered. Crolla continued forward, but Mathews lashed a left hook that caught Crolla clean and staggered him to the ropes. Trying to twist and turn, Crolla had his senses but was being stung as he had been throughout the fight, and the referee called a halt to proceedings with little time remaining in the round. Mathews had gained the British title that had eluded him thus far and the old dog had his day.
Knockout of the Year: David Haye TKO5 Dereck Chisora
Haye and Chisora had sparked a large-scale public outcry when they signed to fight each other under the sanctioning of the Luxembourg boxing federation. This followed the removal of Chisora's British license after the two men brawled at a press conference following Chisora's challenge to Vitali Klitschko.
Although condemned by the media and the British boxing board, the fight went ahead, and it did not disappoint. Chisora came on at all times while Haye picked his shots, using his greater speed and athleticism to offset Chisora's strength. Haye showed all that size matters little in the 5th round, decking Chisora with an overhand left whilst squared on at the ropes. Chisora gamely got up, but the bout was as good as over, and Haye completed the job with a series of hooks.
Upset of the Year: Kerry Hope MD12 Grzegorz Proksa I
Kerry Hope entered his bout with Grzegorz Proksa with a record that was hardly fear-inducing. The Welshman had a slate that read 14-3 with only one win coming inside the scheduled distance. Still, he was coming off the best win of his career to date – a points win over Tony Hill.
Proksa was seen as an up and coming contender, a powerful yet unorthodox puncher who had emerged following a three round stoppage victory over former world titleholder Sebastian Sylvester. Highly touted he may have been, but this was one fight that was not going to follow his script.
Proksa found himself cut early on in the fight, leading to some discomfort as Hope surged forward with galvanised belief in his chances. With Proksa trying and failing to blast Hope out early, and suffering from the distraction of blood trickling down his face, Hope took his chance and outworked the Pole to a majority decision win.
Proska got his revenge in the rematch later in the year, but Hope had a performance that will define his career and a genuine underdog story to go with it.