AIBA awards the very best of 2013
The International Boxing Association (AIBA) hosted its Annual Award Ceremony tonight, following the conclusion of the AIBA World Boxing Championships Almaty 2013.
While the USA Boxing team didn't bring home any medals from the World Championships, two fighters from USA Boxing were awarded top honors for the year. Check it out below.
Best AIBA Elite Man Boxer of the Year: Daniyar Yeleussiov (Kazakhstan)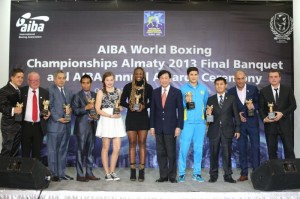 Kazakhstan's national team captain has been outstanding throughout this competition, leading his national side to one of the best results experienced by any team at a World Championships. A talented and impressive all round Welterweight (69kg), Yeleussinov used his composure and exceptional ring craft to dominate his opposition. He and his team have consistently made the right tactical choices and the boxer himself has made some world class opposition look almost ordinary. Consequently, Daniyar Yeleussinov is deservedly the 2013 World Champion and AIBA Elite Man Boxer of 2013.
"I would like to thank the Kazakhstan Boxing Federation for his support and also my coaches. I would also like to thank all the members of AIBA for offering me such an amazing award", said the boxer.
Best WSB Boxer of the Year: Elias Emigdio (Mexico Guerreros)
One of the leading lights of the successful Mexico Guerreros team, Flyweight (52kg) Emigdio was voted best WSB Boxer for Season III by a panel of international journalists. At just 21, it seems peculiar to call him a veteran, but indeed that is what he is with three WSB seasons and 17 bouts under his belt already. This year he added another six wins to his record, losing just once and taking his record to 14-3. He led his team all the way to the semi-finals, where it took the eventual winners Astana Arlans Kazakhstan to beat them.
"I'm very grateful for having been recognized as the best boxer amongst so many talented athletes", he said. "I think this is a reward for all my hard work, I'm very happy about this and I'm highly motivated for the upcoming season. I would like to thank my coach, my family, my friends without whom this wouldn't have been possible. I would also like to say that anything is possible and this proves that it is important that young athletes dare to dream".
Best AIBA Youth Woman Boxer of the Year: Claressa Shields (USA)
USA Boxing phenomenon and London 2012 Middleweight (75kg) Olympic Champion, Shields burst onto the elite scene when she won the gold medal at the 2011 US Women's National Championships. Her performance in the AIBA Women's Youth World Championships this year was sublime and she cruised to gold.
"The exciting thing about Claressa is that she represents the future of boxing. She arrived on the international scene just in time to go to the Olympics and now she is already focusing on going for that second gold medal", said Christy Halbert (USA), Member of the AIBA Women's Commission.
"My dream has always been to be the best boxer in the world. To receive this award from AIBA means a lot to me and it shows that I am getting there. I would like to thank my coach, AIBA and all the referees and judges, who have always been very fair to me, thank you very much", she said.
Best AIBA Junior Woman Boxer of the Year: Ciara Ginty (Ireland)
15-year-old Ginty became only the second Irish woman to win an AIBA World Championships gold medal after Katie Taylor, when she took the Lightweight (60kg) crown at the 2nd AIBA Women's Junior World Championships in Albena, Bulgaria this year. She made national news headlines in her home country, with the Irish Independent newspaper reporting that Ginty had been "in imperious form in these Championships and continued in that vein in the finals with a superb demonstration of counter-punching".
"I was very happy with the way I performed at the competition and I was delighted when I found out I was getting the award. I think everyone was really pleased for me," said the Irish boxer. "It is an honour to receive this and I would like to accept it on behalf of my country, my club and my family. Thank you very much".
Best AIBA Junior Man Boxer of the Year: Shakur Stevenson (USA)
The 16-year-old is the first American boxer ever to win the major accolade. The young southpaw, who has lightning fast hands and fantastic movement won the Light Bantamweight (52kg) category of the AIBA Junior World Championships in Kiev this October.
"It feels great to win this award and especially to be the first boxer from the United States to ever win it", Stevenson said a few weeks ago. "I worked really hard with my coach Pedro (Roque) this year and it definitely paid off. I'm going to keep training hard and go after my goal of winning an Olympic gold medal".
Unfortunately, Shakur was unable to attend the ceremony so his award was accepted by Mr Ray Silvas, from USA Boxing on his behalf.
Best AIBA Coach of the Year: Myrzagaly Aitzhanov (Kazakhstan)
Mr Aitzhanov took over as Head Coach of the Kazakhstan Boxing Team after the Beijing 2008 Olympic Games. For five years now, he has been guiding a young squad of talented boxers with his huge experience and care. In these AIBA World Boxing Championships Almaty 2013, his plans truly came to fruition with Kazakhstan comfortably at the top of the boxing world having won eight medals in total, including 4 golds, 2 silvers and 2 bronzes.
"These World Championships has come to an end and I think that this one has been as exciting as previous editions, with a very high level of boxing", he stated. "Thanks to the work of Dr Ching-Kuo Wu and the AIBA team, boxing is really being developed in many countries of the world. The exciting bouts in the semi and quarter-finals showed us this. It is noteworthy for example that over 20 countries were represented at that stage of the completion. With so many great coaches at work in the world, I am really honoured to accept this award. I thank you for offering it to me. However I must say that it was not simply the result of only my work but also the Federation as a whole, its athletes and its president.
Best WSB Coach of the Year: Sergiy Korchynsky (Ukraine – Astana Arlans Kazakhstan)
Korchynsky led the Astana Arlans Kazakhstan team to victory against the Ukraine Otamans in the most dramatic finals the competition has witnessed to date. Korchynsky, who also previously experienced success with the Dolce & Gabbana Italia Thunder, runs a team that is based around a family model. Season III Arlans boxer Eric Donovan said about him: "Korchynsky's drive and will to win is phenomenal; it can only be mirrored by the love and passion he has for the sport. He is a Master Tactician!"
Korchynsky explained why he feels the WSB is so special. "I started working in the WSB in April 2010 during the exhibition match in Baku, there was wonderful international atmosphere and I made a lot of new friends. We are one international family and for me this is the most interesting and attractive thing about the WSB. I am really pleased to win this award. I would like to thank my colleagues for voting for me and I would like to thank everyone who took part in the victory we enjoyed last season. We were one united team from the security personnel through to the president of the club, so I accept this award on behalf of the entire team".
Best AIBA Technical Official of the Year: Helmut Ranze (Germany)
Mr Ranze was the Supervisor of these AIBA World Boxing Championships Almaty 2013, and made sure that the competition ran as smoothly as possible. All of us can testify that we have witnessed one of the best, if not the best AIBA World Championships to date and it is greatly thanks to his full dedication. He has worked tirelessly and it is therefore entirely natural that he receives this award for his excellent work as a token of AIBA's appreciation.
"I'm feeling very honoured and accept this award on behalf of my ITO colleagues, because you are the ones who do all the detailed work that makes these events possible", said Mr Ranze. "I would also like to thank the AIBA staff, the Kazakhstan Boxing Federation and all the Referees and Judges for their work in preparing these excellent Championships".
Best WSB Supervisor of the Year: Ray Silvas (USA)
Mr Silvas was selected from among a group of highly respected supervisors that managed WSB matches last season. Responsible for overseeing all aspects of the WSB event they attend; our supervisors ensure that our events operate smoothly and in a professional and transparent manner. Mr Silvas is one of the best in the world at it. Not only does he represent AIBA's voice on the ground, but he is also our eyes and ears as well, providing us with useful feedback about where we can improve our procedures. Renowned for his common sense approach Mr Silvas' work is deeply appreciated by AIBA.
"It comes as a surprise. It is a real honour to be selected from such a distinguished group of people and I'm humbled and I accept this award on behalf of my colleagues. Thank you very much."
Best AIBA Referee & Judge of the Year: Mik Basi (England)
An AIBA 5-Star R&J who has demonstrated his talent in both AIBA and WSB competitions for many years. Basi is a model for his fellow colleagues and is always keen to give advice. A little over a year ago, he took the Olympic Oath at the London 2012 opening ceremony, on behalf of all the Referees and Judges of the Games. This was a source of huge pride for AIBA.
"I thought after London 2012 that my boxing career could not get any better. On receiving this award however, I can state that it just did", said Basi. "I'd like to thank my family without whom I could not be here. I would also like thank President Wu for a wonderful World Championships. I am indebted to Mr Terry Smith, who many years ago saw something in me and encouraged me to become a better referee. Finally thanks to AIBA for developing and overseeing the implementation of the robust 5 star referee program. I would like to accept this award on behalf of all the referee's and judges. Thank you very much".
Best WSB Referee & Judge of the Year: Gerardo Poggi (Argentina)
Mr Poggi, who has been a referee for 16 years, was selected from a group of highly professional and talented referees that we have officiating in our WSB matches.He is an AIBA 5-Star R&J and is both well appreciated by his colleagues and respected by the boxers. He officiated in six matches last season.
"The hardest and most important part about being a referee is to ensure a bout is just and fair. In football, if a referee makes a mistake, it can be unfortunate, but in boxing it is far more serious as we are talking about people's safety. As a judge meanwhile, it is important to be completely neutral. That means not looking at countries, nationalities or political problems and to award the win to the person who has truly deserved it. I would like to thank everyone who have helped me get to where I am today. Boxing is my life, so this means so much to me. Thank you".
Best Sportsmanship of the Year: Eyüp Gözgeç (Turkey)
Upon seeing the application by Jeju Island in Korea to host the 2014 AIBA Congress, the Turkish Boxing Federation graciously withdrew its own bid to host the event, thus allowing the Boxing Association of Korea to celebrate its comeback within the AIBA Family after years of turmoil. Such a display of generous sportsmanship did not go unnoticed by AIBA, who applaud the President of the Turkish Boxing Federation, Mr Eyüp Gözgec for his selfless act.
"I am really honored to be given this award by the AIBA Family", said Gözgec. "It is with an immense pride that I receive it. I feel that I am receiving it, not only for myself, but for my Federation, my Minister of Sports and Turkey as a whole. I will do my best in the future to further prove that I am worthy of it".
AIBA President closed the ceremony by thanking everyone for their hard work, in particular the Kazakhstan Boxing Federation for hosting both the Awards Ceremony and the World Championships."I think you can see that we have here on the stage some of the best people in the boxing world, they have worked extremely hard for their sport and they are all very well deserving of this award".