2014 saw many things in UK boxing. Carl Froch and George Groves sold out Wembley with a record post-war attendance. Their rivalry culminated with a Froch stoppage win, leaving Groves with rebuilding to do.
Talking of rebuilding, Amir Khan began to look more and more of a complete package this year, boxing intelligently to beat Luis Collazo and Devon Alexander. Elsewhere in the welterweight division, Kell Brook picked up an alphabet title.
All in all, it's been a pretty good year for boxing in the UK. Here we celebrate the year with our UK boxing awards, beginning with the fighter of the year.
2014 UK Fighter of the Year:
Kell Brook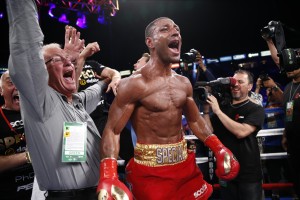 It was a fantastic year for Brook, inside the ring at least. The Sheffield man finally got the title shot he craved, and duly took the opportunity, beating Shawn Porter on points. Porter was on the rise and considered an exciting prospect by many with his bullish, powerful style, but Brook boxed well, away from home, to take a 12-round decision.
Brook, whose only other fight was a March stoppage of Alvaro Robles, could have fought again in 2014, but was unable to having been stabbed while on holiday following the Porter victory. Nonetheless, he finally fulfilled a long-held dream and came good on the promise he had shown in his formative professional years.
Honorable mentions to…Amir Khan, who developed under the tutelage of Virgil hunter to force his way to prominence in the welterweight division, and Carl Froch, who viciously ended his rivalry with George Groves by conclusive knockout.
2014 UK Fight of the Year:
Gary Buckland Wpts12 Gavin Rees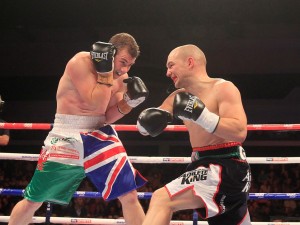 Buckland had a busy year, with three 12-rounders on top of a Prizefighter. Unfortunately he lost two of those three long-distance fights, but the one he won left a memorable impact on UK boxing in 2014. That fight was his first with Gavin Rees, a rambunctious affair that neither man deserved to lose.
It was a south-Welsh derby, with Buckland from Cardiff and Rees from Newbridge, which only added to the intensity of the affair. After 12 give-and-take rounds Buckland got the nod on two of the three judges scorecards.
Honorable mentions to…Tommy Coyle and Daniel Brizuela, where both were knocked down four times. Coyle survived being seriously hurt to the body to eventually overcome Brizuela in the twelfth round. Also to Travis Dickinson and Matty Clarkson, who gave a gruelling contest in which both were hurt and Dickinson finally overcame his man in the 6th.
2014 UK Knockout of the Year:
Carl Froch TKO8 George Groves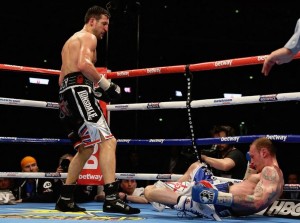 It may be recorded as a TKO, but there was no way Groves was getting up and recovering from this crunching Froch right hand. This won our international knockout of the year award, so it only makes sense that it should win the UK's domestic award too.
It was a punch that Froch had probably dreamed about, as he scythed through an open Groves guard to fell his young challenger, who had goaded him incessantly in the build-up on the back of their controversial first fight.
Honorable mentions to…Kevin Mitchell, who came from behind to stop a tiring Ghislain Maduma in a title eliminator. It wasn't a clean KO, but the importance and timing of it make it all the more impressive. Also to Tommy Coyle, who nailed an aged Michael Katsidis with a perfectly timed short left hook. It was, ironically, a carbon copy of the punch Derry Mathews landed to stop Coyle in 2013.
2014 UK Upset of the Year:
Curtis Woodhouse Wpts12 Darren Hamilton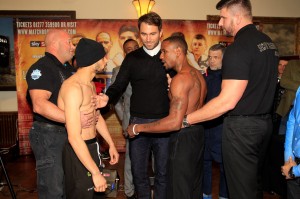 Woodhouse, a former footballer, turned to boxing and made his dying father a promise that he would win the British title. That he would earn the opportunity was surprise enough to some, but he went one step further, wresting the title from Darren Hamilton's grasp early this year.
The light-welterweight contest was evenly fought and engaging as British title fights tend to be, and either man could honestly have gotten the verdict without complaint. Woodhouse was a big underdog going in, but he simply would not be denied, winning the title, upsetting the odds and fulfilling a big promise.
Honorable mentions to…Dejan Zlaticanin, a relatively unknown Montenegrin who visited Glasgow to beat Ricky Burns on points, and to Jorge Sebastian Heiland, whose relentless energy ground down Matthew Macklin to a tenth-round stoppage.
2014 UK Trainer of the Year:
Dominic Ingle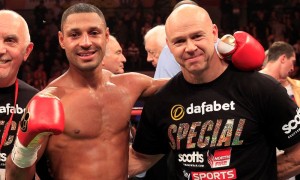 The Ingle gym in Sheffield, founded by Dominic's father Brendan, has produced a long line of excellent fighters. This year that tradition has continued, with some of the gym's best picking up important victories and titles under the guidance of the Ingles.
The aforementioned Kell Brook finally got and won his alphabet world title shot, while super bantamweight Kid Galahad picked up the vacant Commonwealth and European straps. Light-heavyweight Bob Ajisafe won the British title. All in all it was an extremely successful year for Dominic Ingle and the gym.
Honorable mentions to…Shane McGuigan, for expertly guiding Carl Frampton to an alphabet world title, and to Adam Booth, for doing the same with Andy Lee.
2014 UK Prospect of the Year:
Anthony Joshua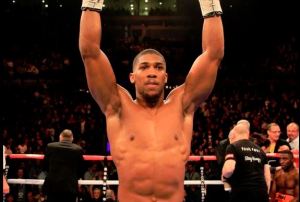 Joshua has risen quickly through the heavyweight ranks, and can look forward to a fight with perennial 'opponent' Kevin Johnson early in 2015. It comes on the back of a huge 2014 for the former Olympic gold medalist, who fought seven times this year, winning all within the distance.
The wins were not hollow either, as Joshua faced a mix of former contenders. Matt Skelton and Michael Sprott represent the UK heavyweight division's old guard, but both were blown away, while Denis Bakhtov and Konstantin Airich were good wins to throw into the bargain.
For honorable mentions, see: the top 10 UK prospects of 2014.