The Biggest Upset Of the Year in Boxing:
Wladimir Klitschko's presence at the top of the heavyweight division has been one of the few consistent presences over the past decade, anywhere in the sport. Some may not have enjoyed his fighting style, and some may have questioned his competition, but there was no questioning that he turned back every challenger to come looking for him. Until Tyson Fury entered the scene, at least.
Fury's win over Klitschko put an end to 19 straight title fight victories for Dr. Steelhammer. And for the first time since Lennox Lewis was around, a fighter devoid of the last name "Klitschko" is the clear top dog at heavyweight.
Klitschko has already stated his desire to enforce his rematch immediately. So we'll see if this was a small blip on the radar, or if Fury's hold over the division is just beginning. Either way, the win over Klitschko is the obvious choice as 2015's Boxing Upset of the Year.
Runner-Up: Glowacki KO 11 Huck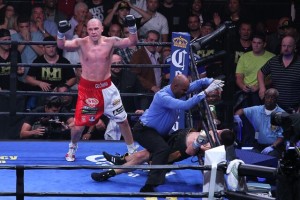 Krysztof Glowacki's 11th round knockout of Marco Huck was an absolute lock for Upset of the Year… right up until Fury's win over Klitshcko. Huck hadn't lost at cruiserweight since a defeat to Steve Cunningham in 2007. In the eight years since that loss, he put together one of the longest title reigns in the division's history, and some would say should have gotten the nod and a victory over Alexander Povetkin at heavyweight as well.
His fight against Glowacki was largely a U.S. showcase for him, to build his recognition stateside and get him in the mix for bigger fights here. Glowacki was an unknown, plying his trade exclusively in Poland up to that point, and with few noteworthy wins on his resume. Things weren't going well for him early on in the fight either, as he was knocked down in the 6th round. But in Round 11 he registered two knockdowns and the referee waved off the action, marking an absolutely monumental upset.
By the odds alone, it's a bigger upset than Klitschko vs. Fury was, but the ending of Klitschko's era atop the heavyweight division takes precedence for us.
Another fight worth mentioning is Amir Imam suffering his 1st loss against Adrian Granados, as Imam was simply biding time for a title shot.