Boxing's Best Trainer Award Winner for 2015:
The first reveal of our annual awards this year will be for the 2015 Boxing Trainer of the Year award. The winner is a man who has guided and molded one of boxing's premier talents, taking him to the pinnacle of the sport. The winner is: Abel Sanchez.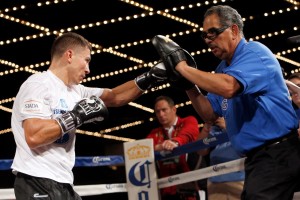 Golovkin is a true wrecking ball, a whirlwind of fury, dishing out a full arsenal of power and precision punches that levels one opponent after another. It's Sanchez who has crafted and honed that style and approach for GGG. Golovkin seems to always improve, yet, without ever displaying weakness. He simply gets better.
With Sanchez and Golovkin working together you feel as if, and they have at least partially acknowledged this, they're almost holding back. We haven't seen Golovkin at his absolute best yet, and that's been on purpose. They are drawing in other big-name fighters and hoping to land larger opportunities, while always garnering more fan interest and viewer eyeballs at the same time.
Sure, you might see Golovkin get hit too much against a certain opponent – but was that by strategic design? They're such a powerful, dynamic combination that they can plan on when to hold back and in what way.
And Sanchez saw it all coming from the start. He knew what he had when he began working with GGG, and has carefully taken up and through to his current lofty position in the sport. Golovkin has blasted a hole through the entire middleweight landscape, and there at every step, instructing on every move, pinpointing every plan, has been Sanchez.
As Golovkin's star has increased, and his training camps with Sanchez at The Summit in Big Bear have become attractions for world-class sparring and work, Sanchez has started to work with more fighters as well. That includes Sullivan Barrera, who is now 17-0 and in line for a title shot.
Comments
comments