In this week's 3 Punch Combo, we will start by taking a look back at last week's bout between Chris Avalos and Yenifel Vicente, which was the co-feature on Friday Night Fights. Then we will look forward to Carlos Molina's return to the ring on this coming Friday night. Finally, we;ll examine the career of Michael Dokes who passed away this past Saturday.
Chris Avalos vs. Yenifel Vicente
Chris Avalos scored a ten round unanimous decision victory this past Friday over the previously undefeated Yenifel Vicente. Vicente gave a spirited effort but in the end the more talented Avalos prevailed in an action packed bout.
Avalos came out strong early and outworked Vicente in the early rounds. Vicente finally got busier in round 4 and was able to land hard shots to the body and head against Avalos' suspect defense.
After enjoying some success in round 4, Vicente came out more aggressive in the fifth. He was however leaving himself open by squaring up to Avalos and throwing wild punches that could easily be countered. Avalos did just that, dropping Vicente with a hard left hook in the fifth.
Avalos was almost able to get Vicente out of there, but the Dominican fighter deserves credit for showing the heart to continue fighting. Avalos controlled the fight down the stretch though Vicente had his moments.
From this and other past performances I do not see Avalos as ever being a championship level fighter. He does nothing really spectacular and is just average in many areas. He has decent power, decent hand and foot speed but nothing really stands out in any of those areas. His defense is also suspect and he gets hit too easily at times.
I do feel though that Avalos will make very entertaining fights like the one we saw Friday for as long as he fights. His defensive liabilities and knack to punch back immediately after being hit will make for more fun fights down the line. But from a talent perspective, don't expect to see Avalos contending for championships in the future.
Carlos Molina vs. Damian Frias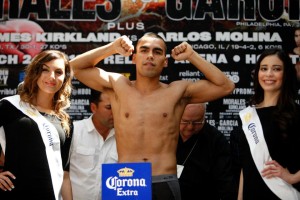 Carlos Molina returns to the ring Friday night to face Damian Frias in a scheduled ten round junior middleweight bout. I feel Molina is a top five junior middleweight and should have gotten the opportunity to fight Saul "Canelo" Alvarez in September. Instead he is in the ring against the journeyman Frias in a stay busy fight.
The southpaw Frias is coming off a career best victory of Henry Crawford who had a record of 22-1-1 entering that fight last year. However, when looking closer at Crawford's record, his first 22 wins were against very suspect competition. He then was TKO'd by Antwone Smith in November 2009 and sat out two years before coming back against Frias. Frias has defeated nobody else of note and lost decisively each time he has taken a step up in competition.
I look for this to be a very workmanlike performance by Molina. Molina relies on volume punching and pressure and is a very underrated defensive fighter who rarely gets caught clean. I look for Molina to establish the tempo of the fight early and outwork Frias for a clear unanimous decision victory.
The Passing of Michael Dokes
Former Heavyweight Champion Michael Dokes passed away Saturday night one day after turning 54 without much fanfare.
Dokes was born in Akron, OH on August 10th, 1958, and amassed a career professional record of 53-6-2 with 33 KO's. His shining moment as a pro came in 1982 when he knocked out Mike Weaver in the first round to win the WBA Heavyweight Championship.
The immediate rematch with Weaver resulted in a majority draw. Dokes would lose his title in his next fight by tenth round knockout to Gerrie Coetzee. Dokes would later admit he never took his training serious for that bout and admitted to drug and alcohol usage during his training camp.
Dokes' strung some wins together in 1988 to earn a shot against future Heavyweight Champion Evander Holyfield. Holyfield would stop Dokes in the 10th round of an all action bout. In 1993, Dokes would fight Riddick Bowe for the Heavyweight Championship. Bowe would stop Dokes in the 1st round of what would become his last significant fight.
Michael Dokes gave fight fans many great memories and will be missed. His fight with Holyfield is one of the greatest heavyweight action bouts of all time and if anyone reading this has not seen that fight I would strongly recommend that you watch it at some point.
Comments
comments