In this week's three punch combo I want to start by taking a look back at the very competitive Art Hovhannisyan-Miguel Acosta bout on Friday night.  Then, I'll take a close look at the unheralded Hank Lundy who finds himself back in the ring on Friday night.  And finally, I'll take a closer look at the intriguing bout between Shawn Porter and Alfonso Gomez this Saturday night which will be on the undercard of the Robert Guerrero vs. Selcuk Aydin fight on Showtime.
Art Hovhannisyan-Miguel Acosta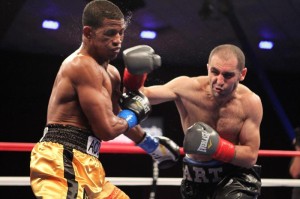 Going into Friday's ShoBox headliner between Art Hovhannisyan and Miguel Acosta, I figured we would see Acosta come out and effectively box early on and Hovhannisyan come on strong late.  The fighters must have received the wrong scripts because exactly the opposite took place. Hovhannisyan started strong and had Acosta down and in serious trouble at the end of round one. As a matter of fact, had the knockdown occurred earlier in the round Acosta probably would not have survived the round.
Hovhannisyan would then go on to dominate the early rounds and appeared to be on his way to a stoppage victory.  However, credit must be given to Acosta for remaining calm during the initial onslaught by Hovannisyan and slowly working himself back into the fight.
In the fifth round, Acosta started to successfully box Hovannisyan from the outside and turned the fight completely around by scoring a flash knockdown of Hovannisyan. From there the strategy of boxing from the outside with the left jab right hand combination seemed to carry most of the late rounds for Acosta.  It was an interesting and close competitive fight coming down the stretch, and I personally thought Acosta did enough late to earn a draw (94-94 on my scorecard).
Though Hovhannisyan got the decision, I feel his stock took a bit of a hit with his struggles down the stretch and that Acosta will earn another opportunity based off his late rally.
Hank Lundy Returns
There aren't many fighters in the sport right now more deserving of a big fight than Hank Lundy. Lundy, who takes on the tough Raymundo Beltran on Friday night, has consistently faced tough challenges in the last two years. His last seven opponents have combined for a total of 10 losses. He has even shown vulnerability, having been knocked down in three of the fights he ended up winning, and knocked out in the one fight he lost in that stretch.
Despite this he can't seem to land a big opportunity and is back to taking on a tough foe in a high risk low reward fight. That being said, I do feel that Beltran is stylistically tailor made for Lundy.  Beltran comes forward in an aggressive style which should play right into Lundy's hands.
Lundy possesses fast hands and a naturally-gifted boxing ability. He should be able to consistently pick off the aggressive and slow footed Beltran as he moves forward.  Even if Beltran is able to get inside, Lundy's agile movement and faster hands should allow him to offset any work Beltran may do.
I have a feeling when all is said and done Lundy will have a lopsided decision.  And if Lundy gets throughFriday let's hope his next fight is a big one on a premium network.
Shawn Porter-Alfonso Gomez
Shawn Porter and Alfonso Gomez will square off this Saturday night on the undercard of Robert Guerrero and Selcuk Aydin in a very interesting bout.  The fight features a very good prospect in Porter in the toughest test of his professional career against the veteran Gomez who is looking to get back in title contention. This should be a very entertaining, close and competitive fight.
Porter is an aggressive fighter who relies almost solely on combination punching.  Though his record shows 14 knockouts in 19 fights, Porter is really not a tremendously hard puncher. But he is a volume puncher and his knockouts have come from that.  Gomez on the other hand is a very technically sound boxer-puncher.
I do feel the veteran Gomez will show Porter a few things in this fight but when all is said and done I think Porter will win by decision.  Porter is younger and faster — and simply put, his combination punching will be too much for Gomez.  Gomez will be looking for his spots but while he is looking Porter will be throwing.  So look for Porter to outwork Gomez and earn a decision victory in a highly entertaining fight.