In this week's 3 punch combo I will first analyze a fight that boxing fans should not overlook this week between Sergey Kovalev and Gabriel Campillo. Next, I will look at the disappointing performances of three prospects this past week, on various televised appearances.  And finally, I'll give some appreciation for the effort Steve Forbes put forward Saturday in his bout against Johan Perez. 
Don't Overlook Kovalev-Campillo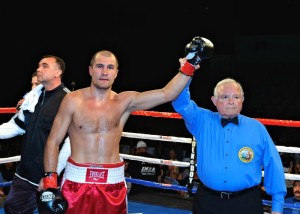 On Saturday, Light Heavyweight contenders Sergey Kovalev and Gabriel Campillo square off in Uncasville, CT.  Due to the big HBO card also on Saturday, this fight has gone largely overlooked by the boxing pundits.  But I feel this is a tremendous matchup and one that fight fans should not miss.
Kovalev is an aggressive power-punching Light Heavyweight. In his last fight, he took a step up in competition against Lionell Thompson. And Kovalev completely destroyed Thompson, showcasing his stiff jab and thunderous punching power. It was the kind of performance that had fans buzzing and thinking that Kovalev could be a force in the division.
Campillo, on the other hand, is a slick southpaw boxer puncher.  He often works behind his jab and uses movement to set up the right angles to land combinations.  Though his shots do not carry much power behind them they are effective at keeping his opponents at bay. But his style has not always sat well with judges and Campillo has been on the wrong end of several controversial decisions.
There are a couple reasons why I really love this matchup.  First, we will learn a lot about Kovalev.  There are some in the sport who feel Kovalev is a future champ and may be a dominant force in the Light Heavyweight division.  But there are others who wonder about his overall skill set and if he will get exposed. Campillo is by far Kovalev's sternest test and we should know a lot more about him after Saturday.
And second, this is a fascinating matchup in contrasting styles. Kovalev will try to press the fight and make it more of a contest on the inside. Campillo is going to try to keep the fight at a distance from the outside. The question is who can impose his respective style on the other?
This is a very difficult fight to predict the outcome. Campillo may be able to effectively keep the fight at a distance and frustrate Kovalev. Kovalev has never been past 8 rounds so the longer the fight goes the more difficult the fight may be for Kovalev.
Kovalev though may not be thinking about the late rounds. Campillo is a notoriously slow starter and he has not fought in nearly a year. In addition, Kovalev's best punch is the straight right hand which also happens to be a punch that is a vulnerability for southpaws. So he may be able to catch Campillo early with the right and score that spectacular knockout he desires.
However this fight plays itself out it should be very interesting and it's one that fight fans should definitely not miss.
Prospects Fail to Impress
This week prospects Brandon Gonzalez, Daquan Arnett and Ronny Rios each received valuable television slots and they were all able to come up with victories. However, the overall performances of each man left much to be desired.
Brandon Gonzalez scored an uninspired unanimous decision victory over journeyman Don Mouton.  It was a very methodical performance for Gonzalez.  He controlled range with his jab and combinations when he wanted. But he never seemed to let go with his shots when there appeared to be ample opportunities to do so. It almost seemed as though Gonzalez considered this to be a sparring session, and he was very lazy with bringing his left jab back which could cost him down the line if not corrected.
Daquan Arnett also scored a unanimous decision victory in his bout with Brandon Quarles. Arnett looked sharp and was dominant when the fight was on the outside. His speed was a huge advantage and Quarles had no answers, but on many occasions he allowed the fight to go to the inside which was the only place Quarles was having any success.
So why would Arnett not consistently keep the fight at a distance?  The answer is that he was clearly not in the best condition. He weighed 155 ¾ pounds which was the heaviest of his career. By allowing the fight to go to the inside allowed Arnett to rest. This made for an ugly fight at times and also for a much closer fight than it should have been.
Finally, Ronny Rios scored a unanimous decision victory over Rico Ramos. Rios came into the fight billed as a high volume puncher who specialized in breaking opponents down to the body.  But he seemed reluctant most of fight to open up in combination to the body.
Rios seemed to be in between identities in this fight.  He was trying to be more defensive and box a little bit more from the outside.  But also at times wanted to go back to his old ways and attack the body in combination from the inside.  He was literally stuck in between which style to use all night and this nearly cost him.
It is obvious that Gonzalez, Arnett and Rios all have talent. But each fighter still has a lot of growing and maturing to do inside the ring. Hopefully, in the end, these bouts serve as valuable learning tools for each man.
Appreciation for Steve Forbes' Effort
Steve Forbes lost a majority decision to Johan Perez on Saturday night.  However, the effort he put forth in the bout deserves credit.
Forbes was brought in as an opponent to boost Perez's resume.  Forbes at one point held a title belt and is a durable fighter but he is a light hitter and also had lost 4 of his previous 5 bouts. So he appeared to be a low risk opponent for Perez who would give Perez some rounds and experience.
Oftentimes in the sport we see such veteran fighters brought in as opponents. They figure they have little chance to win so don't put forth much effort to win the fight. They go into a defensive posture and try to take as little punishment as possible before collecting that paycheck.
And going into this fight many expected Forbes to do just that. He is already a well- respected fighter in the sport and cannot be blamed for trying to make a couple more paydays before retiring.
But Forbes was not interested in just surviving and playing defense for 10 rounds.  He came to win the fight and almost did just that.  He was willing to let his hands go and found Perez to be relatively easy to hit.  And by doing so he also absorbed some very big shots from Perez in the process.  Since Forbes was not willing to be just an opponent he turned what looked to be an ugly fight on paper into a very entertaining brawl.
In the end, the decision went to Perez. Frankly it was close and easily could have gone in Forbes' direction.
If Forbes had played defense and gone into survival mode in this fight nobody would have questioned him. But he took risks and pulled out all the stops to win. He did what many in his position have not done in the past.  And he deserves appreciation from boxing fans for his effort.