In this week's three punch combo I will first take a closer look at Friday's night bout between Adonis Stevenson and Don George, as well as examine where Stevenson currently sits in the pecking order at Super Middleweight.  Next, I'll  offer my thoughts on Saturday's thrilling war between Brandon Rios and Mike Alvarardo and take a closer look at where Rios goes from here.  Finally, I'll review the bout between Nonito Donaire and Toshiaki Nishioka as well as offer my own opinion on Donaire's overall punching power as he has moved up in weight.
Adonis Stevenson – Don George
Adonis Stevenson scored an impressive 12th round TKO over Don George on Friday night.  He was able to put George down multiple times and closed the show in the 12th.  The win should set up more opportunities for Stevenson down the line.
First of all, I would like to give some admiration to Don George.  George showed tremendous heart during the course of the bout and fought until the very end to win the fight.   He was dropped a total of 5 times including twice in the 5th.  However, later in that thrilling round, he came back himself to hurt Stevenson.  George deserves credit for not trying to just survive but trying his heart out to win despite seemingly hopeless circumstances.  He is a talented young fighter with a good punch and huge heart.  We will be seeing much more of him in the future.
In my opinion, the win over George moved Stevenson just behind Andre Ward and Carl Froch in the Super Middleweight rankings.  And it got me thinking about a hypothetical fight with Ward.  I understand that fight is unlikely in the short term, but when looking at future opponents for Ward at 168 and 175, Stevenson may be the most viable and most dangerous.
Ward is a master technician in the ring with blazing hand speed and very good power.  There is no doubt in my mind that he could box circles around Stevenson, effectively landing his combinations at will.
However, the thing that makes this bout so intriguing to me is Stevenson's power.  He has shown legitimate one punch power and as long as he is standing in front of Ward he is dangerous. Now I am not saying that I think Stevenson beats Ward.  But I believe out of all contenders between 168 and 175 right now, Stevenson is the most likely to beat Ward because of Stevenson's ability to end the bout with one punch.
[Also see: Fight night Photo Gallery from Donaire-Nishioka & Rios-Alvarado]
Brandon Rios – Mike Alvarado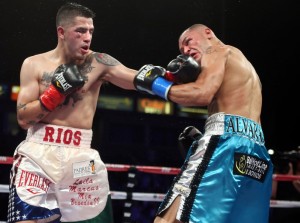 Brandon Rios stopped Mike Alvarado in round 7 of a thrilling war on Saturday night.  The fight had high expectations coming in and certainly did not disappoint.
The difference that I saw in the fight was the committed body attack of Brandon Rios.  In each round Rios would make it a point to work Alvarado's body with his digging left hook.  Alvarado, on the other hand, was not as committed to the body as Rios.
In the early rounds, Rios landed some flush shots to Alvarado's head that seemed to have little impact on Alvarado.  However, it was the body shots that wore Alvarado down and when those same shots landed in the 6th and 7th rounds they had a serious impact on Alvarado.
After the fight there was talk of matching Rios with the winner of Manny Pacquiao vs. Juan Manuel Marquez IV.  But if I were managing Rios, I would first try to set up a fight with Ruslan Provodnikov.  This would be another war and fight of the year candidate.
Provodnikov is a little easier to hit than Alvarado and I think because of this Rios has a little less trouble with Provodnikov.  A win by Rios in another exciting fight would enhance his marketability that much more.  And not only would this help the promotion of bigger fights down the line for Rios at 140, but also drive up his price tag.
Nonito Donaire – Toshiaki Nishioka
Nonito Donaire stopped Toshiaki Nishioka in the 9th round on Saturday night.  The fight was a competitive matchup on paper but turned out to be a one sided affair for Donaire in the ring.
I was very disappointed with the performance of Toshiaki Nishioka.   He looked to be in trouble when he was walking into the ring.  He had a lost and even scared look on his face.  This actually reminded me of the look Michael Spinks had on his face when he faced Mike Tyson in 1988.
In the ring, Nishioka simply didn't fight to win.  He refused to throw punches and simply decided to cover up for the majority of the bout.  He certainly appeared to be afraid of Donaire's punching power.  Doniare, to his credit, was patient and took what he was given until the opportunity to knock Nishioka out presented itself.
Since his devastating knockout of Fernando Montiel, Donaire has faced four opponents who were all very concerned about his punching power.  Two, Omar Narvaez and Nishioka, simply refused to engage for the majority of their bouts out of fear of Donaire's power.
The point I am making here is that though it may appear on paper that Donaire has not carried his power up in weight, in actuality because of the defensive mindedness of his opponents I believe his power is as good as it was in the lower weights.  I admit coming into this bout I was one who thought his power had not carried up in weight.  But after analyzing his recent fights more carefully, including Saturday's bout against Nishioka, there is no doubt in my mind that Nonito Donaire is still one of the sport's elite power punchers.