In this week's three punch combo I want to take a closer look at Ivan Popoca and his inspiring effort Friday night against former World Champion Jose Luis Castillo. Then, you'll find my thoughts on the scoring of the Glen Johnson vs. Andrzej Fonfara bout that headlined Friday Night Fights. And finally, we'lll offer up a preview and prediction for what should be a very entertaining fight this Friday night on ShoBox between Art Hovhannisyan and Miguel Acosta.
Ivan Popoca
There are not a lot of times when the fighter who loses a one sided fight deserves the headlines. However, I feel an exception needs to be made in the case of Ivan Popoca. Popoca lost by technical knockout in Round 8 to former champion Jose Luis Castillo, but undoubtedly gained many fans in the process.
Castillo came out strong early and hurt Popoca in the first round with several left hooks. Popoca was then dropped early in the second with a flush left hook and it appeared that this fight would have a quick ending. However, Popoca showed tremendous calmness in the face of severe adversity and made a smart tactical adjustment in the third round by going southpaw to avoid the left hook of Castillo that landed so frequently in the first two rounds.
He also started going toe to toe with Castillo in an effort to turn the fight. During an exchange in the third, Popoca suffered a bad cut over his left eye. In the fifth, a cut opened over Popoca's right eye. And by the end of the fifth round, his face looked like a bloody mess.
During this time, though he was doing better, Popoca was still losing the rounds and falling badly behind on all the scorecards. Despite all these circumstances, Popoca not only kept fighting but kept fighting to win. Often times when a fighter is being dominated in a way such as Popoca we see that he either gives in to the inevitable or goes into a defensive shell and survivor mode.
The reason I gave Ivan Popoca a standing ovation after the referee stopped the fight after the eighth round was the fact that he was still trying badly to win. He was taking chances trying to land the punch or combination that would turn the fight around. By taking chances he was putting himself in harm's way and consistently ate sharp punches from Castillo.
But he never stopped trying, believing until the moment the referee stopped the fight he could win. And that is what was so honorable and courageous about his performance Friday night. It is a performance that I personally will never forget.
Glen Johnson vs. Andrzej Fonfara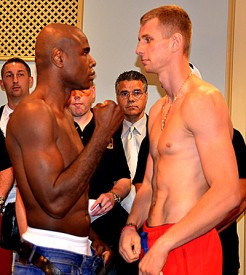 Glen Johnson and Andrzej Fonfara engaged in a very entertaining light heavyweight fight on Friday night. In my opinion, and I know I may take some criticism for this, I believe Johnson won the fight. The main criterion in scoring a round is who landed the cleaner, more effective punches during the course of the round. And going by this criterion in each round I believe Johnson should have come out victorious.
I do not doubt that Fonfara landed more punches or had his moments during the fight. But watching on television, Johnson's punches seemed more thudding and seemed to be having more of an impact. I will say that many of the rounds were very close and I do not have an issue with Fonfara being awarded a decision.
The only major issue with the scoring I have is with the judge that had the fight 99-91 in favor of Fonfara as there was no possible way Johnson won only one round. For those who are interested my scorecard read 97-93 in favor of Johnson.
Art Hovhannisyan vs. Miguel Acosta
Though this week's boxing schedule is headlined by Adrien Broner, and features a very interesting main even on Friday Night Fights between Juan Carlos Burgos and Cesar Vazquez, I feel that the most interesting fight of the weekend is the ShoBox headliner between Art Hovhannisyan and Miguel Acosta.
This fight features a classic match of differing styles between the rugged-aggressive Hovhannisyan and the boxer puncher in Acosta. Hovhannisyan is coming into this fight off a technical draw to veteran Cristobal Cruz in his last fight and before that a knockout victory over prospect Archie Ray Marquez.
Acosta, the former WBA Lightweight Champion, has lost two of his last three. Those two losses came by knockout loss to Brandon Rios and a unanimous decision loss to Richard Abril, in which Acosta was down three times. I feel the style matchup will make for a very close entertaining fight early, but do feel the rugged style of Hovhannisyan will eventually wear down and stop the former champion in the late rounds.
As stated earlier, Acosta was down three times in last fight to Abril and three times in his knockout loss to Rios. I believe Acosta will do will early boxing on the outside. However, much like Rios got to him in the mid to late rounds, so do I see the pressure fighter Hovhannisyan getting to Acosta in a fan friendly action packed fight.