In this week's three punch combo I will first preview what should be a very interesting bout on next week's pay-per-view undercard between Miguel Vazquez and Mercito Gesta.  Next, I will look back at last Friday's WBA Super Lightweight Championship fight between Joan Guzman and Khabib Allakhverdiev. And finally, take a critical look at the televised undercard of the Miguel Cotto vs. Austin Trout fight on Showtime.
Previewing Miguel Vazquez vs. Mercito Gesta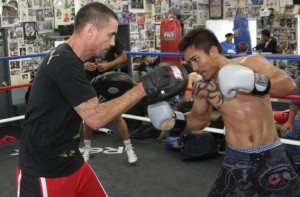 The eyes of the boxing world will be on Las Vegas on Saturday for the fourth fight between Manny Pacquiao and Juan Manuel Marquez.  On the undercard there is an interesting matchup between Miguel Vazquez and Mercito Gesta for Vazquez's IBF Lightweight Championship.
One of the reasons I find this bout to be so intriguing is that we should learn a lot more about Mercito Gesta.  There are some in boxing who think Gesta is a top prospect and has the potential for stardom. Since he is a southpaw from the Philippines with quick hands, he has naturally drawn some comparisons to Manny Pacquiao.
However, on the flip side, there are some in the sport who feel that because of this he is being overhyped. A lot of questions about Gesta should be answered on Saturday.
The bout itself is a contrast in styles.  Gesta is an aggressive southpaw boxer puncher.  He will try to get in close and work his combination punches. Vazquez likes to keep his distance and box from the outside. So whoever can impose their style on the other will go a long way in determining the winner of this bout.
There is one other factor that needs to be addressed when breaking down this fight. Gesta has been cut over the right eye in a couple fights including his last bout against Ty Barnett.  I would not be surprised to see Gesta cut again in this fight over that eye either by way of punch or accidental head butt.
In my opinion, Vazquez is too skillful a boxer for Gesta.  Gesta is athletically gifted but I am not sure about his overall boxing skills. He has faced very limited opposition thus far in his career and been able to get away with many mistakes. For example, he often doesn't use his jab to get to the inside and has shown defensive vulnerabilities.  He won't be able to just walk in on Vazquez as he did other opponents. And if he does just try to walk in Vazquez will find him to be a very easy target.
Some in the boxing world are hoping for a breakout performance from Gesta on Saturday night.  I just do not see that coming. Vazquez should be able to pick Gesta apart from the outside all night long.  And in the end I expect a dominating performance from Vazquez on route to a unanimous decision victory.
Did Guzman Get What He Deserved?
Khabib Allakhverdiev defeated Joan Guzman by technical decision on Friday night to win the vacant WBA Super Lightweight Championship. The bout was stopped in the 9th round after Guzman injured his leg while slipping and avoiding a punch. Guzman was unable to continue and the referee sent the fight to the scorecards where Allakhverdiev was awarded with a split technical decision victory.
Guzman is a fighter that has been frustrating boxing fans for many years.  He was an extremely talented fighter who time and time again made decisions that were detrimental to his career.  On two occasions for big fights he showed up overweight and in 2010 tested positive for a banned substance.
Despite this, Guzman was still undefeated and fighting once again for a world title.  In the early going Guzman had trouble with Allakhverdiev's style and punching power.  Allakhverdiev put Guzman down in the 3rd (though he also could have been given credit for a knockdown in the 1st) and his aggressive southpaw style seemed to be bewildering Guzman.
But in the 5th, Guzman seemed to change the tide of the fight.  He started giving Allakhverdiev more movement and boxing him from the outside.  Guzman seemed to be piling rounds up on the scorecards and on his way to scoring a decision victory when the injury took place.
It's funny how it goes in the sport of boxing sometimes.  Guzman appeared ready to win a title belt and line himself up for another big chance in a loaded weight division.  But fate may have finally caught up to him in the end.
Showtime's Bad Undercard
I think that Showtime for the most part to a big step forward in their boxing coverage for 2012.  However, the Cotto-Trout undercard they choose to air on Saturday left much to be desired.
As paying subscribers to premium television, we expect more quality in the fights that are aired then what would be shown on regular cable or network television.  And for the most part in 2012 Showtime has delivered and even exceeded expectations.  But for one of the biggest fights they were airing all year, their choice of what to broadcast on the undercard has left many fans scratching their heads.
Danny Jacobs is a great story and I would not have minded seeing his bout on Showtime Extreme. However, the Jayson Velez-Salvador Sanchez II bout was an utter embarrassment and if fought at well should have been deep on the untelevised undercard.
Golden Boy Promotions was heavily involved in this event.  They have an extensive list of very talented fighters and are very capable of making very solid matchups.  Why they and Showtime chose to air fights that probably wouldn't have cut it on ESPN or Fox Sports on such a big stage is beyond me.  Hopefully, some lessons will be learned by both parties and in the future fight fans will get the quality they have come to expect.