How Gabriel Rosado Can Defeat Gennady Golovkin
Gabriel Rosado faces an uphill task in the minds of many boxing experts when he faces rising star Gennady Golovkin on Saturday night in an HBO-televised fight at Madison Square Garden. On paper, the odds do seemed stacked against Rosado. He is venturing up in weight for this fight to face a naturally bigger and stronger man in Golovkin.
Golovkin is a big puncher and Rosado was stopped by Alfredo Angulo in 2009. Additionally, Rosado has four other losses on his ledger and some were to very nondescript opponents.  So how can Rosado pull off the gigantic upset?   I will analyze the steps Rosado must follow to defeat Golovkin on Saturday.
1. Don't Get Overwhelmed Early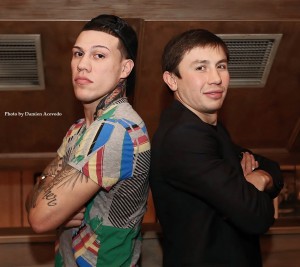 Rosado must not get overwhelmed by the moment, and by Golovkin, early.  This could prove to be the most difficult part of this equation for Rosado to overcome.
Rosado has never been on the big stage before, and nor has he ever faced such a ferocious puncher as Golovkin. It is imperative early that he does not get caught up in the moment and is mentally strong.
In the first round, Rosado may want to focus on strictly feeling Golovkin out. He should not go  into survival mode but simply get a feel out for the moment and his opponent. After he gets his feet wet, he should then let his game plan come into focus in the second.
2. Get Golovkin's Respect Early
After Rosado gets a feel for the moment and for Golovkin, he needs to earn Golovkin's respect. If he does not do this early Golovkin will simply walk through his shots and land big shots of his own — and this of course is a recipe for disaster for Rosado.
So how does Rosado get Golovkin's respect?
He needs to set up combinations off his jab and the smartest way to do this would be to take something off his punches early. Rosado should still work off his jab but throw some combinations to score and not necessarily do damage. This will get Golovkin to mentally relax and think Rosado cannot hurt him, and Golovkin may even get careless thinking he can't get hurt and leave himself a bit more vulnerable.
After Rosado lands a few of these combinations he will need to find the right moment to put some more power behind his punches.  Golovkin may be coming in more recklessly, so Rosado should be able to find a chance. And when he does throw with enough conviction, Golovkin will feel the power behind the shots. This will not only make Golovkin think twice about rushing in but may also make him a bit more hesitant to let his own hands go.
3. Box, Box and Box Some More
Rosado carries several significant advantages into this fight with Golovkin. Rosado is the better boxer from the outside and is the taller man. He is also the quicker fighter and possesses the faster hands.
Golovkin will look to do most of his damage on the inside. He will attempt to use his jab to get in close and then unload with power shots once on the inside. Therefore, it's absolutely imperative for Rosado to get off with his jab first and keep the fight at a distance. There he can use his quickness to set up angles and work combinations with his faster hands, and if Golovkin does get inside, Rosado must tie up.
4. Don't Let the Philadelphia Fighter Come Out
Besides not getting overwhelmed early, this may be the next hardest task for Rosado to overcome. He is a true Philadelphia fighter and somehow he must not let that come out against Golovkin.
Golovkin is the much stronger fighter in this bout. He is also a big time puncher. So it would not be in Rosado's interests to trade with Golovkin during the bout.
But Rosado has shown in the past a natural instinct to fire back and exchange when he gets caught.  He must be disciplined enough to not let this instinct come out against Golovkin.  Even if he slips just once could mean disaster for Rosado.
Can Rosado Really Pull This Off?
The answer is that yes, I believe that Rosado can win this fight. He has the skills and has gained valuable experience through the years. Rosado must stick to the game plan outlined above and fight disciplined.  If he doe,s he will have pulled the first major upset in the sport in 2013.