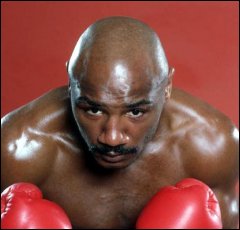 5 Boxers with the Best Chins Since the 1980s
More boxing fans talk about who punches the hardest, but equally as important and noteworthy is which fighters have the best chins. Going over the past 30 years or so back into the 1980s, which fighters have had the best chins? While surely some boxers have been left of the list, here are 5 of the best chins in boxing's recent history.
Juan LaPorte
Fought everybody and was never put down, only getting stopped once—right before stopping in 1994 and for good after a brief late-90's comeback. LaPorte fought Salvador Sanchez, Rocky Lockridge, Eusebio Pedroza, Wilfredo Gomez, Barry McGuigan, Julio Cesar Chavez, Azumah Nelson, Kostya Tszyu, and countless others who couldn't dent his chin.
The former WBC Featherweight Champion retired with a less-than-spectacular 40-17 mark, but will not be forgotten for his excellence and legendary durability. He may have lost most of his biggest fights, but he always performed admirably, boasting of a chin that ranks among the best of all-time.
Julio Cesar Chavez
He had good form, but his defense wasn't in any way special. And he wasn't that fast, so how did he soldier through almost 15 years and 90 fights before visiting the canvas for the first time? It was his chin. Tempered by fierce pride, his chin absorbed bombs unflinchingly from the best in the business.
Guys who were accustomed to their best punches producing chilling knockouts could only shake their heads, as the poker-faced Chavez absorbed them like a sponge, before unleashing his own fury. Bombers like Mario Martinez, Roger Mayweather, Rocky Lockridge, Juan LaPorte, Edwin Rosario, Jose Luis Ramirez, and countless other 80's luminaries got absolutely nowhere with Chavez.
Oliver McCall
You want a good chin? How about a guy with a 26-year career (still active) who never touched down? The man must be made of steel. He simply brushes off things that would make everyone else crumble—inside and outside the ring. His chin has stood up to Buster Douglas, Lionel Butler, Bruce Seldon, Tony Tucker, Lennox Lewis, Frank Bruno, Oleg Maskaev, and Henry Akinwande.
He also has endured the bombs of countless fringe contenders known for their power and has never seen the canvas. And we're talking about a guy who hasn't always lived right on the streets. Watching him have a nervous breakdown against Lennox Lewis showed his chin would stand up to anything, even as the rest of him is falling apart. McCall might have the best chin in heavyweight history, with only George Chuvalo able to compete with the "Atomic Bull" in this category.
Marvin Hagler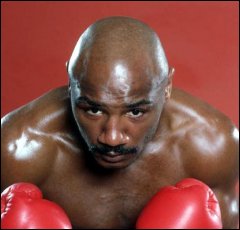 One almost hates to mention his "knockdown" at the hands of Juan Roldan—otherwise spoiling a perfect record. The Marvelous one was clearly off-balance. Hagler's pre-title run was almost as impressive as his reign, as he braved through a tough middleweight scene in Philly, withstanding the bombs of Cyclone Hart, Bobby Watts, Willie Monroe, Bennie Briscoe and others. As a champion, he faced a slew of capable hitters without so much as a batted eyelash.
When he stood up to the bombs of Tommy Hearns, his chin rose to legendary levels. He later said Hearns would have needed to hit him over the head with the ring-post in order to hurt him. Unlike some old boxer's hyperbolic tales of yesteryear, that claim is probably true. Hearns hit Hagler with right hands and hooks that would have left most men in shambles. Hagler's skin broke, but his spirit never wilted in one of the more graphic all-time displays of durability. Off hand, it's difficult to name any other middleweight who you can be certain would have stood up to that.
Mike McCallum
Similar in a lot of ways to Hagler—long underappreciated, stood up to everyone and was never stopped, his age was somewhat of a mystery, and he was dropped once. His Juan Roldan came in the form of heavy-handed Fabrice Tiozzo, who scored an iffy knockdown of "The Bodysnatcher" in 1995. By then, McCallum had already racked up a Hall of Fame career.
When he stood up to Julian Jackson in 1986, it really showed what his chin was made of, as he sponged the best "The Hawk" had to offer. Jackson usually got you or you got him, but almost no one stood up to him and survived. McCallum ate the shots, and then stopped him in the 2nd round. He also weathered the power of Donald Curry, James Toney, and Roy Jones, never stopped in a 16-year/55-fight career.