John Molina Deserves a Big Fight Opportunity –
Lightweight contender John Molina isn't the best fighter in the world or even the division – he may indeed be the most confounding active fighter in the game – but he provides more late-fight drama than any fighter in the world. In the past two years, he has come from way back on the scorecards to starch a pair of rising and unbeaten contenders. First it was Hank Lundy, who was boxing Molina's ears off prior to getting stopped in the 11th round. Then in July of this year, Molina, with his career hanging in the balance, somehow summoned the drive and strength to stop Mickey Bey in the 10th and final round. Coincidentally, both Lundy and Bey were 18-0-1 before falling to the heavy hands of Molina.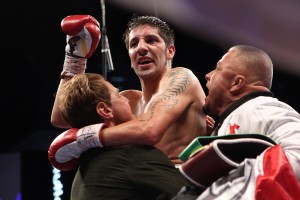 The Bey fight looked to be a lost cause. Only 3 of the 27 scores on the 3 judges' cards had gone to Molina through 9 rounds. He was unable to gain any meaningful foothold for the entire fight. As if that weren't enough, he was in the midst of a huge Bey onslaught to begin the 10th round. Chalk it up as more fodder for his trainer Floyd Mayweather's claim that he is the "best trainer in the world." Considering Molina's history, it was a ridiculous strategy for Bey to go for the stoppage when he had the fight won, but it looked to be working as he pelted Molina with shots that put him right on the precipice of a knockout loss. But it gave Molina a chance and a huge left hook put Bey in jeopardy. Molina did what a good finisher should do and mopped up for a dramatic stoppage win with less than a minute remaining in the bout.
It's harder to sell Molina as a title threat considering his failed challenge of then-WBC Lightweight Champion Antonio DeMarco in September of 2012, when he was stopped in 44 seconds of the very first round. First-round knockouts, while the most emphatic result on paper, are often times the most misleading of all conclusions. A lot of times, a fighter is caught cold. He's just not warmed up to battle and punches he would brush off later in the fight make a big impact.
When you look at some of the shots Molina has stood up to in his career, it's hard to believe such a benign-looking right hand from DeMarco got him in so much trouble. He got caught right at the end of the punch and after wobbling, he appeared to freeze in the face of the ensuing DeMarco onslaught. Coherent, but not retaliating, ref Jack Reiss gave him the hook.
Also hurting Molina's chances is a June loss to unbeaten Russian Andrey Klimov–a painfully close bout, but a result that still set back Molina's career. Molina is now 26-3 (21 KOs) and at 30 years of age, he is looking for a big fight. Some may feel he already had his chance when he fought DeMarco, a solid but beatable champion, where Molina couldn't even get through the first minute. Throw in the Klimov loss and it gives everyone the right to blow off Molina.
Still, Molina is a decent option for anyone at the top of the 135-pound division. At this point, we're talking about guys like Ricky Burns, Miguel Vazquez, Richar Abril, and maybe even Yuriorkis Gamboa. The title picture is so muddled at 135 that it's hard to make any sense of it whatsoever. The de-facto top two guys are probably Vazquez and Burns in terms of having a legit title claim, but Gamboa is probably the most dangerous of the bunch.
In any event, Molina has earned a status that stretches beyond the mere evaluation of merit. We can review his record and find things to criticize, but we would be missing the point. When a fighter provides as many thrills as Molina, he should get extended some of the credit that was given to similar fighters in the past. Arturo Gatti received opportunities and paydays that surpassed his actual talent and credentials and no one complained. Not to compare Molina to Gatti, but then again, a fight with Miguel Vazquez or someone like that isn't really asking for so much, is it?