On Thursday, October 27th, one man will continue to bigger and better fights while another might have to reconsider his career of choice when San Marcos, CA's Aaron Garcia (10-2-2, 2KOs) faces Filipino Bernabe Concepcion (28-5-1, 15KOs) in a ten round bout for the WBC Continental Americas featherweight title. The Top Rank Promotions main event will be held at the San Manuel Casino in Highland, California, and broadcast live on Fox Sports Net.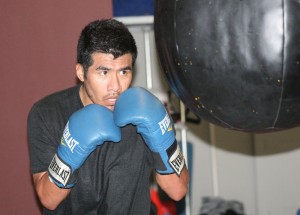 With both fighters coming off losses, Vince Parra, trainer and manager of Garcia, knows how important this fight is for his fighter, "It's everything. This is his future, all in one. Ever since he was fighting as an amateur, it's all for not as far as we are concerned right now. This fight is do or die for him. He is going to win this fight."
Garcia has been training for close to eight weeks, starting off in his hometown then traveling to the Wild Card Gym in Hollywood for a stint and now back in San Diego and the newly minted House of Boxing in the east part of town.
"I am as ready as I am going to be. I have been training for a long time. We are ready to go," a focused Garcia stated after a grueling session. "It is going to be a good fight so we have to be ready for anything he has, his power, his movement. Anything he has been working on, we are going to be ready for."
A new element that Garcia as incorporated into his daily training might make a difference in the bout, "We have been training for a while and we have been working on some strengthening so you are going to see some power coming from us. You are going to see some power and boxing and we are going to put it all together that one night."
As his trainer and strategist, Parra is preparing Garcia for the whole ten rounds but admits that Garcia has another ending in mind.
"We are getting ready for the ten rounds and be prepared to win every minute of every round," Parra stated. "We are going for the stoppage, he wants to stop him. I know that sounds outrageous with only two knockouts but that is what we are working on. He wants to get with the elite of the featherweights; he is going to be twenty-nine years old this year so we are going in there with every intention of stopping Bernabe."
Parra does understand that the Binangunan, Rizal, Philippines Concepcion, who challenged both Steven Luevano and Juan Manuel Lopez for the WBO featherweight title, is not slouch, "Bernabe as fought for the title twice and he is tough. Aaron has to get past guys like this if he wants to be a champion."