Weights from Offenburg, Germany for Abraham's Comeback Fight:
Tomorrow night in Germany, King Arthur Abraham will begin his comeback in hopes of reclaiming another world title before the end of 2012. The first step on his journey has him facing Pablo Farias, as he looks to put on a strong showing and assert himself as a force to be reckoned with in the division despite his poor finish to the Super Six Tournament. Appearing on the undercard of the Abraham vs. Farias fight is WBO 168 lbs champion Robert Stieglitz. Take a look at the weigh-in results for both fights right here.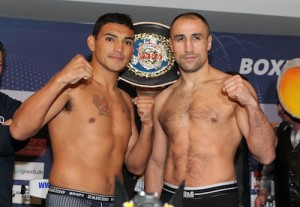 Here are the weights from Offenburg, Germany:
WBO Europe Super-Middleweight Title:
Arthur Abraham: 167.5 lbs
Pablo Farias: 166 lbs
WBO Super-Middleweight Title:
Robert Stieglitz:167.5 lbs
Henry Weber: 166.75 lbs
Tune back into ProBoxing-Fans.com later in the weekend for full coverage on how the Abraham vs. Farias fight plays out, and the rest of the weekend's breaking boxing news, results and more.