Arthur Abraham (41-4, 28 KOs) and Paul Smith (35-4, 20 KOs) came face-to-face at today's final press conference ahead of their rematch on Saturday night at the O2 World in Berlin, Germany.
Abraham vs. Smith Tale of the Tape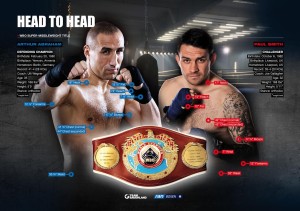 Arthur Abraham:
"I know what I need to do. On Saturday night, I will get the job done. My hand will be raised and the title will remain round my waist!

"Smith fought well in our last fight, but can he do it again? I've trained harder this time round. I'm in better shape and will show my true potential.

"He is going to be in for a tough night. I can't promise a knockout, but I can promise that I will do everything in my power to give the fans a spectacular finish."
The challenger, Smith is taking confidence from their first encounter and is also promising an improved performance as he attempts to dethrone 'King Arthur' in their world championship rematch.
Paul Smith:
"I'm ready and willing to do whatever it takes to get the win.

"I'm fit, I'm strong and I've sparred very well. I know I've got what it takes to defeat him. Abraham can be fitter and stronger this time around, any fighter can do that, but he cannot add anymore strings to his bow, he's not that type of fighter, that type of man or that type in the gym.

"What he does is incredibly effective, it's won him many, many World title fights and I respect him massively, but there's not going to be anything new from him. I'm here to crash the party and prove I belong at the top!"
Said promoter Kalle Sauerland: ''Fans can expect another enthralling fight between these two world-class athletes. Arthur is in great shape and is fired up for this WBO World Championship rematch. He wants to beat Smith, and beat him convincingly, as he knows victory will bring him closer to the fights he craves.''