Full Results for the Action Heroes PPV with Morales, Maidana, Guerrero, Katsidis, Kirkland & More:
The Action Heroes PPV far exceeded even the loftiest of expectations that fans had for the card. The fights were thrilling, the outcomes were highly anticipated, and the crowd was roaring throughout. There were upsets, career best performances, Fight of the Year candidates and more. Read on below to see the full Maidana vs. Morales results, Guerrero vs. Katsidis results, and more.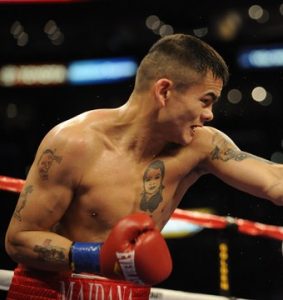 Morales vs. Maidana Results
There were plenty of individuals decrying this bout [including many of ProBoxing-Fans.com's finest], however Morales came to be in a war and give the fans a great fight, just like he has always done for his career. Maidana came out aggressive and took control early on, busting up Morales's eye and sending him on the defensive.
But it wouldn't be long before Morales, in classic fashion, surged back. He actually took over control of the bout in the middle rounds, and looked to be on his way to a potential massive win and upset. The two went back and forth exchanging huge blows and combinations, making a strong imprint on our minds to be an early Fight of the Year 2011 favorite.
With the fight basically even heading into the championship rounds, Maidana found another gear and was able to get more done against the Mexican legend. The scorecards were very much up in the air though, and they came in as a Majority Decision: 114-114, 116-112, 116-112, for Maidana. ProBoxing-Fans.com scored the bout 7-5 for Maidana, agreeing with two of the judges, and had the fight even after ten rounds.
El Terrible was anything but on Saturday night, and he put on another legendary performance in the face of critics, myself included, who didn't give him a second thought. Kudos to both men.
Guerrero vs. Katsidis Results: Guerrero Scores Career Best Win
Robert Guerrero scored the biggest win of his career by defeating Michael Katsidis via unanimous decision. In the fight that most people pegged as the most intriguing heading into the evening, Guerrero controlled the affair which was a back and forth, all-action fight.
Katsidis lost two points in the 8th for low blows, and when Guerrero retaliated in the 9th he lost a point as well. The deductions wouldn't make a difference at the end of the affair, with final scores of 118-106, 118-107, and 117-108.
Guerrero's best performance to date as he continues to improve and establish himself as a fighter to be reckoned with. Too much precision, speed and all-around boxing skill for Katsidis, and if anyone was doubting his grit, heart and toughness, that has been officially put to bed as well. Will it be Juan Manuel Marquez next?
James Kirkland Knocked Out
At just 1:52 of the first round, massive underdog and late opponent Nobuhiro Ishida knocked out come-backing slugger James Kirkland. Kirkland was put down three times in that short span before the bout was stopped.
After being on the shelf for two years thanks to a stint in prison, this was Kirkland's third fight back in just a month. One has to wonder if that was too much, or if he didn't take Ishida seriously. Also worth noting is that he dropped to 158 lbs for this fight, after his first two fights back were over 160 lbs.
Regardless of excuses or reasoning, a huge win for Ishida, and a terrible loss for Kirkland. He wasn't the only undefeated middleweight to lose a fight this weekend though, joining David Lemieux in the knocked out, upset and no longer undefeated ranks.
Undercard Results
Junior welterweight prospect Danny Garcia won a ten round unanimous decision over Nate Campbell. Garcia controlled the affair from beginning to end and hardly lost a round. Too young, big and skillful for the faded Campbell…
Hot Canadian boxing prospect Mikael Zewski survived a closer than expected bout, winning a split decision over his opponent…
Undefeated Russian cruiserweight Rakhim Chakhiev stopped his challenger in the third round.