I've long said that a Adonis Stevenson vs. Sergey Kovalev clash is perhaps the best fight to make in the entire sport of boxing. Well, now it seems like we're one step closer to that no-brainer of a fight becoming a reality for 2014. According to reports, Stevenson and Kovalev may end up appearing on the same HBO-televised card in late November, and if each man wins, it's the perfect setup to a 2014 clash between two of the most devastating punchers in the game.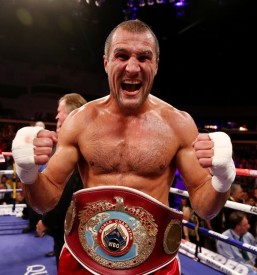 Yvon Michael of Canadian promoter GYM says that he's looking at a November 30th date for a twin bill featuring both Stevenson and Kovalev. While Montreal may otherwise be the best location for the fight, the Canadiens have a home game that night, so the arena is taken. As such, they're looking at Quebec as the locale for the card.
Stevenson is mandated to fight British challenger Tony Bellew next, so that's who he'd be facing in the match. He'd be favored to win that fight, and for Kovalev, who just picked up a title against Bellew-rival Nathan Cleverly, he has an opportunity to make a title defense of his choosing. It's a chance for both men to shine and display their signature KO power, before meeting in one of the best prime match-ups of top level hard hitters in the sport's recent history.
Ultimately, anything that gets Stevenson and Kovalev in the same ring as one another is a very, very good thing in my book. Stevenson vs. Bellew is a quality match in and of itself, and when you add in a Kovalev appearance, and the potential for a match between the two should they both win, this is a can't miss.