Curiously, the web has been abuzz with support for underdog journeyman and former Olympian, Vicente Escobedo heading into the July 21st match up with Adrien Broner.  Admittedly, Escobedo carries a decent highlight reel complete with one and two punch knockouts and exciting victories, though none against a caliber fighter such as Broner.
Is the support for Esocbedo genuine?  Do fans truly think the 30-year-old has the ability to take down the much quicker, and younger, Broner in "The Problem's" backyard?  Or, are we looking at a situation where the antics of the more talented fighter have so grated on the fans that even the most dedicated of observers are willing to forgo logic for desire?  Going back to the films, it certainly feels like the latter. 
When: July 21, 2012
Where: U.S. Bank Arena, Cincinnati, Ohio
The Pugs and The Prize
Adrien "The Problem" Broner (23-0, 19 KOs)
ProBoxing-Fans.com's #2 Ranked Super Featherweight
Height: 5'7"
Nationality: U.S.A.
Age: 22
Fighting out of: Cincinnati, Ohio
Stance:  Orthodox
Vicente "Cente" Escobedo (26-3, 15 KOs)
Height: 5'8"
Nationality: United States
Age: 30
Fighting out of: Woodland, California
Stance: Orthodox
On the line will be Broner's WBO super featherweight title.
Broner vs. Escobedo Preview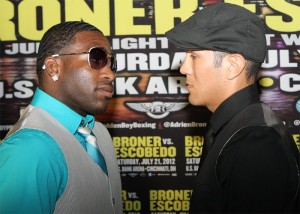 Hometown guy made good, Adrien Broner enters the U.S. Bank Arena with a pristine undefeated record and coming off of three consecutive knockout victories, the most recent over Eloy Perez back in February.  Broner is lightning quick with his hands, feet and, yes, his mouth.
Undeniably, Adrien loves him some Adrien.  As divisive as he may be, Broner is still a very talented fighter.  Detractors will argue that he didn't look as crisp in his prior two fights as the hype would suggest, but the results beg to differ.  For Escobedo, this may be his one last, best chance at capturing championship gold, although it's far from being the best possible scenario.  Though, playing with house money may make him much more dangerous than anyone is expecting.
The Analysis
Apologies for the simplicity of the assessment of Escobedo's chances in this fight but, quite honestly, there are but two things he can do once the bell rings in order to give himself a shot at winning: punch, and avoid being punched.  Seem ridiculous? Good, because it should.
A quick skills assessment shows that Escobedo is lankier, slower and has a left hook you could time with a digital watch.  He's not going to outfight Broner in this match.  What Escobedo can do—as both his record and films suggest—is knock an unsuspecting fighter to the canvas.  He's powerful from both sides and is as relentless as they come when he senses his opponent is in danger.
His goal in this fight should be to use his vicious straight right as he did in his first-round KO of Lonnie Smith, as often as the situation presents itself and hope he catches Broner off guard.  Unfortunately for Escobedo fans, there's a better than good chance that their hero will be on the defensive much of the night, so mustering up any offense will prove daunting and, ultimately, his undoing.
What makes this fight intriguing for the Broner camp is that by most accounts he should walk over Vicente Escobedo with little effort.  But, as any boxing fan or writer will tell you, those fights are often the most intriguing to cover because absolutely nothing in this sport is a given.  At best, this is the tune-up fight that the Broner camp is hoping for, keeping their man in step and in shape while bigger things loom on the horizon; at worst, we're looking at a classic trap fight against a hungry journeyman with very little to lose at this point in his career.
Overall, expect Broner to take this fight as seriously as he does any other, perhaps more so given that the heavily partisan crowd will likely be filled with friends and family.  Oh, expect the typical showboating that has led many to call him the "next Floyd Mayweather Jr.," but also don't sleep on his incredible speed, punching power and forward fighting style.  All other things being equal in another ring, in another arena, Broner should make quick work of Escobedo.
Broner vs. Escobedo Prediction
Escobedo would be wise to start off the fight aggressively and look to create space between himself and Broner.  He is prone to grab and hold to break up an opponent's flow, which could prove to be both smart and potentially fatal in this match.  If he can keep Broner on the outside, use his jab to set up his sharp right hand and disrupt Adrien's flow throughout, he has a shot at making this a decent fight.
Still, it's hard to pick against Broner's superior speed and punching ability.  The man starts fights as if he was shot out from a cannon, and you should expect no less on the 21st.  With the full force of "The Queen City" behind him, Broner is going to look to make a statement in what isn't being regarded as a statement fight.  His camp knows that this is not a bout he can afford to win sloppily, nor is it a fight he shouldn't take seriously.
Broner will move forward throughout the match, and take on some punishment in doing so.  In the end, he's just too quick and too talented to not prevail.  Look for the crushing right hook to turn the tide for good in the third round.
Prediction: Broner by TKO in the third round