With their dual victories over David Haye and Tomasz Adamek this year, the Klitschko brothers have made it a plain fact that they will dominate the heavyweight division until either they decide to retire or, hanging on for too long, they age enough to become vulnerable. This situation had been solidifying for years, but many were hoping that the rise of some good, smaller heavyweights would at least provide the two Ukrainian doctors of pugilism with a stiff challenge. With those hopes dashed and the division's championship's set for at least a couple more years of mechanistic title defenses with foregone conclusions, the real action in the heavyweight division is now over who will rush in to fill the gap once Wladimir and Vitali decide to depart the scene. These are the heavyweights jockeying position for a shot at the crown in a post-Klitschko world.
Heirs to the Throne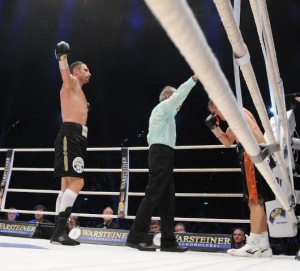 The heirs to the throne are the fighters who, if either Vitali or Wladimir were to retire tomorrow, are best-placed to move right in and grab a world title. Indeed, Alexander Povetkin would become a titleholder by default, since he has the phoney "regular" WBA championship already.

Tomasz Adamek: Adamek has proven himself as a small-but-tough and technically sound heavyweight, and despite his recent rout at the hands of Vitali Klitschko, remains a force to be reckoned with in the division. Any of the bigger fighters in the division who think Adamek can be pushed aside solely on the basis of size and power will come away frustrated and defeated.

Eddie Chambers: Like Adamek, Chambers is one of the division's most skilled boxers. He is the slickest fighter in the division, but also its smallest contender (an irony given that Adamek came up from light heavyweight, while Chambers has always been a heavyweight). Anyone who thinks Chambers is too small to grab a belt and hang on to it should remember the example of Chris Byrd, another slickster who ruled the division between the retirement of Lennox Lewis and the rise of the Emmanuel Steward-trained versions of the Klitschko brothers.

David Haye: In my opinion, Haye's fall in the rankings after his loss to Wladimir has been too steep. If he was overrated before, he is underrated now. He remains a fast and powerful man for a mid-sized heavyweight, has good skills, and his loss to Wladimir was frankly not that bad. Dr. Steelhammer usually leaves the ring without a mark on him, but Haye reached Klitschko with enough smack to redden his face. That is more than anyone else has done in recent memory, and if Haye sticks it out, he is a shoo-in for a post-Klitschko title.
Robert Helenius: With wins over Lamont Brewster, Sam Peter and Siarhei Liakovich, the Nordic Nightmare is well-positioned to take a post-Klitschko world by storm. Indeed, if Vitali or Wladimir hang around too long and lose their matchmaking sense, Helenius might pick one of them off. He is big, powerful and formidable, and the most advanced of the up-and-coming crop of big heavyweights.
Alexander Povetkin: It seems Povetkin's strategy has been to wait out the Klitschkos all along, and that plan is working. If Wladimir retires, Povetkin becomes the first post-Klitschko champion by default. I also like his chances in a unification bout, as Povetkin is a solid, well-rounded medium-sized heavyweight.
The Contenders
This group consists of guys like Ruslan Chagaev, Chris Arreola and Tony Thompson. While they are established heavyweights, I can't see them beating any of the five fighters listed above. The natural role of these bottom tier contenders is as title defense fodder for the post-Klitschko champions and/or as gatekeepers for the up-and-comers.
Rising Lions
This is the next generation of heavyweights, the class of fighters in early-to-mid twenties who are working up the ladder and might be ready for a big fight in another two or three years. Robert Helenius was in this group, but broke out into real contention with his 2011 wins over Peter and Liakovich.
Tyson Fury leads the prospect class recent win over fellow prospect Dereck Chisora. Another noteworthy win for the 23 year old Briton might propel him out of the prospects and into the contenders. Since Fury keeps a busy schedule, I expect him to take on another stiff fight within a year. He is also one of the biggest young lions at 6'9″ and about 260 lbs.
The rest of the class of prospects are still in the stage of fighting with journeymen and learning their trade. Dereck Chisora himself might bounce back if he can score a win over a fellow prospect or a gatekeeper. Former Olympians David Price and Deontay Wilder show a lot of promise, and both are super heavyweights. Andrzej Wawrzyk, the Polish heavyweight champion and a European youth league champ who turned pro instead of pursuing the world amateur circuit, is another big heavyweight showing promise. Over in Russia is Denis Bostyov, a well-schooled mid-sized heavyweight who, at age 25 and with a 28-0 record, should be looking to take a step up in terms of opponent quality soon.