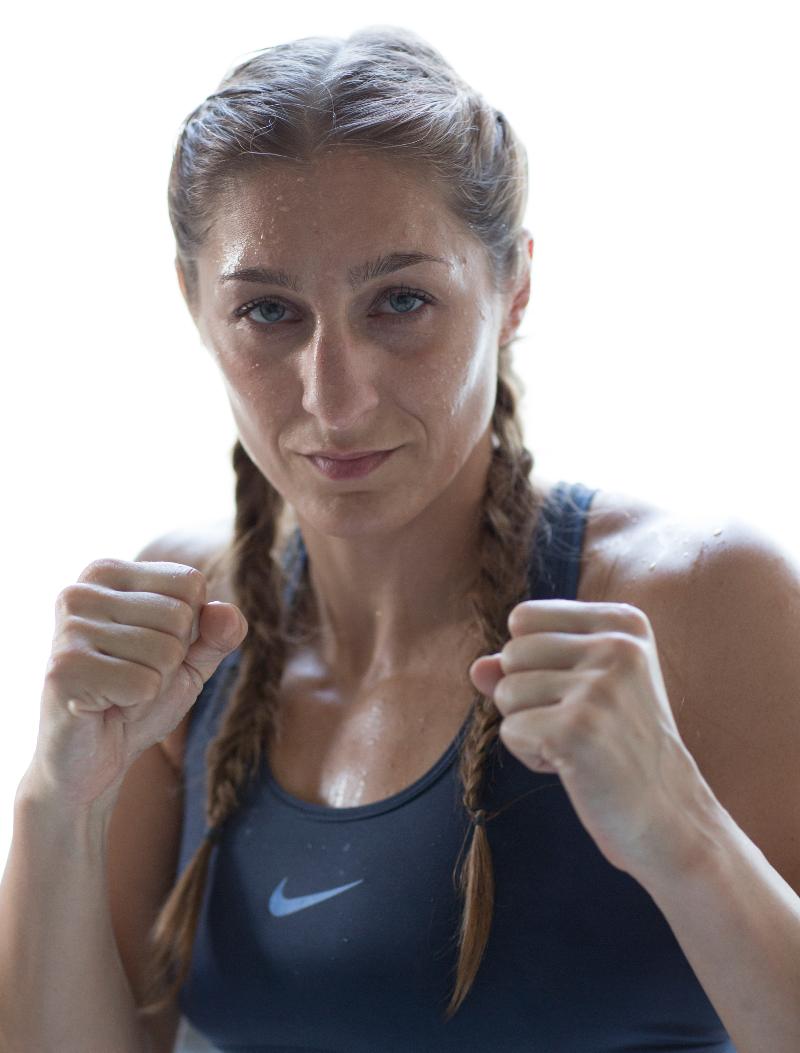 Sometimes the bright lights and anticipation of a sold-out crowd can overwhelm a fighter long before the bell rings. Aleksandra Magdziak Lopes considers all the pressure an added bonus.
"It makes you want to fight harder," said the female welterweight from Marshfield, Mass., who'll fight for the vacant Women's International Boxing Association (WIBA) world title next Friday, Sept. 13, 2013 at Twin River Casino. "To give my fans an opportunity to see me win, in this situation, it's a motivator."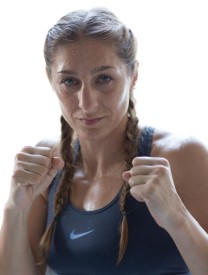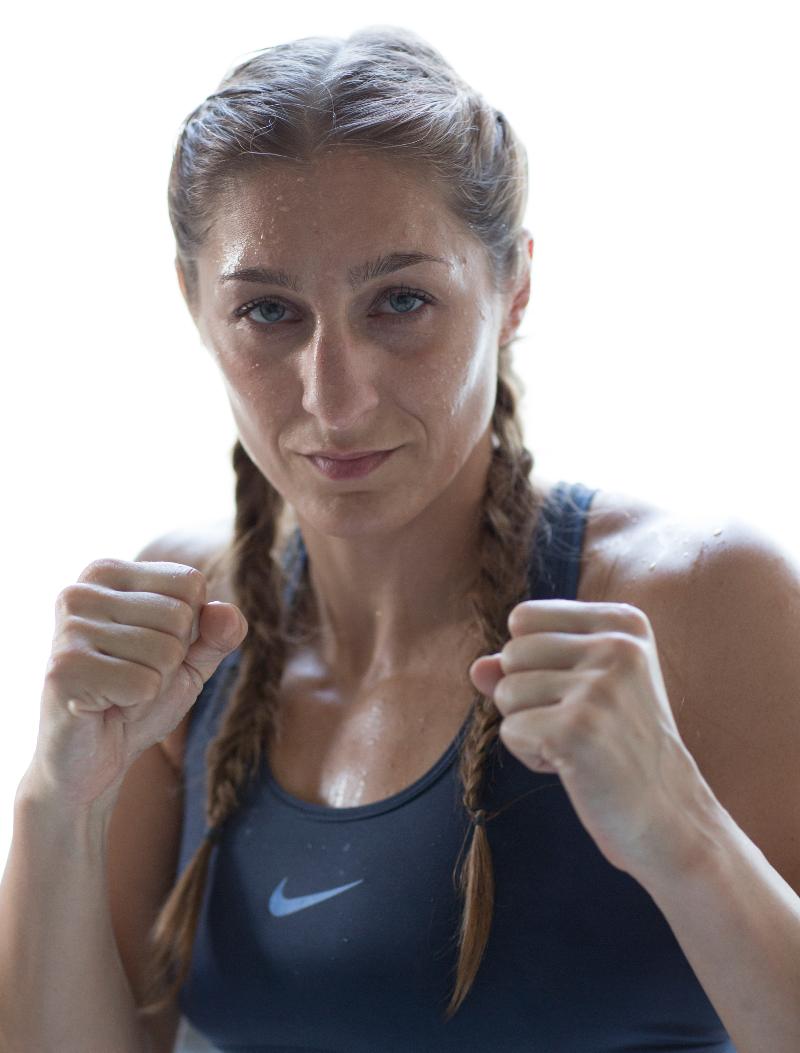 Having won her last 10 fights since losing her professional debut more than three years ago, Lopes (10-1, 1 KO) is on the cusp of winning her first world title, but first must get past the dangerous, undefeated Tori Nelson (6-0-3) of Ashburn, Va., a former World Boxing Council (WBC) middleweight world champion who is no stranger to fighting under pressure — or on the road, for that matter. Including fights in her home state and nearby Maryland, Nelson has also fought overseas in Bermuda and Trinidad and Tobago, the latter in 2011 when she beat Lorissa Rivas for the WBC title.
"That says a lot about her," Lopes said. "I'm excited about fighting someone like her. I know she's an aggressive fighter. Our styles will match well and make for an exciting fight."
The 10-round Lopes-Nelson showdown will headline Jimmy Burchfield's Classic Entertainment & Sports' "Champion Breed" card, which begins at 7 p.m. with doors opening at 6. Tickets for "Champion Breed" are $41.00, $76.00, and $126.00 (VIP) and can be purchased by calling CES at 401.724.2253/2254, online at www.cesboxing.com or www.twinriver.com, at the Players Club booth at Twin River, or through any TicketMaster location.
Originally from Gliwice, Poland, Lopes began to pick up momentum early in 2012 when she won the first of five fights in a 13-month span, beating Ashleigh Curry by unanimous decision at Twin River. Under the tutelage of her head trainer — and husband — Wayne Lopes, she cemented her status as a legitimate world-title contender less than a year later with a critical win over hometown favorite Adelita Irizarry at Mohegan Sun. That's when the dream of winning a title began to seem like more and more like a reality.
"It had even more to do with what we saw in the gym, too," Lopes said. "You have to put in a lot of time to be successful in this sport, and after a while it all started coming together. Even when we were just training, we saw distinct progress. There are things I can do really well now that I couldn't do two years ago, like something simple like throwing multi-punch combos. I do that really well. A couple of years ago, I couldn't execute them. It's simple stuff – not rocket science.
"When you start seeing that kind of improvement, you want to go back and start seeing what else you can do. Things are instinctual now, whereas I couldn't do it before, or I thought too much while I was in the ring. After a while, it becomes second nature. When you learn how to problem-solve and adjust, it becomes fun. Then once we started fighting regularly, we put the plan in place."
Consider Sept. 13 judgment day for Lopes, a culmination of all the hard work she's put into her career both in and outside of the ring. In addition to her boxing career, Lopes is also a practicing attorney working at a law firm in nearby Brockton, Mass., after passing the bar in November. Her firm handles civil litigation, workman's compensation, wills, estate planning and personal injury cases, among others, leaving Lopes with a full plate on a daily basis.
"Thankfully, I have real excellent time-management skills," Lopes said with a laugh. "I graduated [the New England School of Law] with honors, so even back then I had to box and work part-time, too.
"I'm kind of used to my schedule being overloaded. It actually makes me perform better. With boxing, you need a little more rest with the level of training that comes with these fights. I wish I had a little more time to recover, but I train smarter now. My training is real focused. Thankfully, it all falls into place."
Having the right team in place has been equally important, starting with her husband, Wayne, whose sons Manny Lopes and Artie Lopes also boxed professionally. The two met at Goody Petronelli's legendary gym in Brockton, where former middleweight champion Marvin Hagler got his start. One week from next Friday, they'll be celebrating their fifth wedding anniversary.
"We're a great team," Lopes said. "I honestly couldn't see myself doing this with anybody else. Wayne and I mesh well. He knows how to manage my training, my stress level — everything that comes with fighting. He's very patient. He knows how to get the best out of me. He makes it fun. Sometimes, when you're in-depth in training camp it gets tiresome, but he keeps it fresh."
Lopes was originally scheduled to face veteran Lisa Noel Garland next Friday, but Garland was forced to withdraw due to an injury. The transition to Nelson was seamless; Lopes had already studied up on Nelson long before Garland withdrew from the fight, knowing full well she might have to face her at some point down the line. That opportunity has come a bit sooner than expected, but Lopes is prepared for what she considers a "more legitimate opponent" considering Nelson has fought tougher competition in more adverse conditions, similar to what she might face next Friday.
This will be Nelson's first fight at the welterweight limit of 147 pounds; she spent the first three years of her career hovering between 150 and 160 as a middleweight.
"I'm really excited," Nelson said. "I like to come out fighting the best, and she is highly-ranked. I know this is going to be a great bout. I'm just looking forward to it being safe and being my first welterweight victory."
Neither fighter figures to be bothered by the magnitude of next week's bout. If anything, Lopes will thrive off the added pressure with what she hopes is a boost from her hometown fans.
"When I had less experience, I actually felt more pressure," Lopes said. "In recent years, I've stayed busy and come to realize the tremendous amount of support I have, from people wishing me luck to being there at every fight. It seems like everyone is behind us. There will be people in that crowd next Friday who have followed me since my first amateur fight. It'll be a lot of fun."
Comments
comments