Devon Alexander vs. Marcos Maidana Results; Adrien Broner vs. Eloy Perez Results
HBO televised a very intriguing doubleheader on Saturday night, the Arch Enemies card taking place from St. Louis, Missouri, and headlined by Devon Alexander vs. Marcos Maidana in a 10-round welterweight clash. The co-feature pitted two undefeated, and super-confident American 130 lbers against one another, the seemingly star-to-be in Adrien Broner, and the lesser heralded Eloy Perez. Which of these fighters took advantage of the big stage to score the best wins of their careers? Read on for full results and coverage of both fights.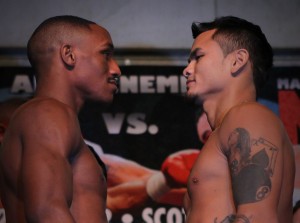 Alexander vs. Maidana Results
Devon Alexander moved to 23-1 (13) with a wide 10-round unanimous decision over Marcos Maidana, now 31-3 (28). It was a masterful performance for Alexander in his welterweight debut. Scores were 100-90 (twice) and 99-91, all for Alexander, who really should get a gust of wind in his sails after this big win. Maidana was absolutely dominated and Alexander looks worlds apart from the form of his last 3 fights.
Alexander came into this fight needing a lot to prove. First, he has the rise in weight to deal with, not to mention the feeling on the part of some that he had actually lost his last 3 fights, despite going 2-1 during that stretch. Devon "The Great" appeared to be lucky to get a decision over Andriy Kotelnyk in St. Louis in 2010, before losing to Timothy Bradley in a disappointing fight where some were expecting fireworks. Then in his last fight, also in St. Louis, he was fortunate to get the nod against hard-charging Lucas Matthysse. It's almost as if he underwent a mini- Paul Williams downslide–going from unified champion to afterthought. Tonight served as an important night for Alexander.
Maidana entered the ring to the strains of Metallica's "Seek and Destroy," looking determined, as if on a search-and-destroy mission. Considering the location of this match, that's probably what it's going to take. Alexander entered the ring with another rapper I can't identify. The referee was be "Double-S" Steve Smoger.
Alexander, 146.5, opened up round one with some crisp jabs, mixing in the straight left, with Maidana, 146.75, being rather still. Maidana came in and tried to mix it up late, with Alexander lashing back with a few ripping counters. Sharp round for Alexander.
Maidana tried to crowd Alexander in the 2nd, attempting to make the fight ugly. Looking swift of hand and foot, Alexander would pelt Maidana with a few hits, the tie him up. Catching Maidana on the way in, Alexander seemed to hold an edge, with Maidana trying to rough up Alexander.
The third opened with Maidana finding some success getting to Alexander. Looking to tie up, Alexander got hot a few times. Maidana, gaining momentum, seemed to briefly shake Alexander, who responded by running a few combos off on Maidana in the corner. Alexander is bleeding over his right eye. A big left by Alexander at the bell. 29-28 Alexander.
Alexander got his bearings back in the 4th, getting the better of the hard-charging visitor. But one can almost sense Alexander getting a bit winded. His corner is peading with him to relax. That seems to be good advice, like Alexander is wearing himself out by being so tense and fired-up. But he's doing well. So far.
Alexander controlled the action in the 5th, with Maidana getting closer. The toe-to-toe might favor Maidana in the long run, but Alexander is holding his own on the inside. And at a distance, he's much sharper, landing the far more telling blows. 4 rounds to 1 for Alexander. Good last 2 rounds for Alexander, just when it appeared Maidana was surging.
In the 6th, with Alexander continuing to build a lead. it's clear Maidana isn't terribly sharp. Maybe it's the added weight. He's typically late-surging, but with this being a ten-rounder, he looks horrible. An Alexander straight left appeared to put Maidana down in the final minute of the 6th, but Smoger called it a slip. When waved back together, Alexander went for the kill and appeared to shake up Maidana.
The 7th opened with Maidana desperate, heaving himself into Alexander in the corner. A big right hook by Alexander slowed his progression and Alexander ripped him with a right-left. His left is really honing in now on an increasingly ragged-looking Maidana. Big single shots banged off Maidana. Combinations rained in the final minute, with Maidana groping for answers. 69-64 Alexander.
The 8th saw Maidana sloppy, but determined, but running into Alexander's shots. Body shots again put Maidana to the brink of his demise. Maidana is hurt and getting backed up! Maidana landed a few towards the end of the round. He weathered the storm, but another huge round for Alexander.
With two rounds left, it looks dire for Maidana, who will need on of his late-charging frenzies to stand any kind of chance. And it doesn't look like it's coming against the smart and sharp Alexander. He's done a good job nullifying Maidana's attack with tying up and has been punching as cleanly as we have seen in a while from him. Alexander is absolutely dominant.
Both men touched gloves to begin the 10th and final round. Maidana looks a beaten man–quite a testament to Alexander's performance. Even in defeat, Maidana has been dangerous and given his opponents a run for their money. Not tonight. Maidana is winging, but getting carved up by the Alexander sharpshooting. Alexander closed the show in style, leaping in with telling potshots and spinning out before Maidana could respond. After ten rounds, I had it 99-91 Alexander.
Broner vs. Perez Results
Adrien Broner, 130, was impressive in dismantling unbeaten contender Eloy Perez, 130, in the 4th round in defense of his WBO 130-pound title. It was another dominant performance and knockout, this time coming against a good fighter in Perez.
While Broner was a heavy favorite, I expected Perez to be tough. He proved he could stand up to power by surviving two knockdowns to outpoint heavy-hitting Dannie Williams in 2009 and hasn't been down since. Until tonight. He had the look of a diamond-in-the-rough contender–an anonymous but capable contender who had come up the hard way with tough fights and gym-work. And his power is improving. Despite only 7 stoppages in 25 fights, he has stopped his last two foes. Well, sometimes all that doesn't matter against a fighter like Broner.
Broner made his ring-walk, with Cincinnati legend Aaron Pryor carrying the WBO belt. He performed a rap on his way into the ring. The first round opened up, with both men feeling each other out a bit. A Broner left hook halfway through the round backed up Perez. Perez tried to get his jab moving and moved his hands in encouraging fashion. But with a few seconds left, he ran into a Broner uppercut. Broner's round.
Broner flashed some fast hands in the 2nd and appeared to shake Perez up a tiny bit, who shook his head in defiance. Perez looks well-schooled and poised, but the superior firepower of Broner is telling.With the shorter man backing up, Broner has room to work, even with Perez maintaining a good defense. A right to the ear rattled Perez just before the bell. 20-18, Broner.
Perez is clever, bouncy and energetic–but just not landing much. Broner is pressing the action and while not everything is landing, the shots are resounding enough to give him the edge. Spinning Perez, Broner opened up the alley for a few nice shots in the final minute. Perez is doing his best, but a little overwhelmed by the sheer athleticism of Broner. And he can barely lay a glove on Broner.
The 4th opened with Perez trying, but gaining zero foothold. Sure, Perez is a somewhat small 130-pounder, but it looks like a junior welterweight against a junior featherweight. Perez is trying to hit and move , but not managing any success. Then, with under a minute left in the round, Broner crashed a short shotgun right hand over the top and added a left with Eloy already discombobulated, sending Perez to the mat. Eloy tried to regain his feet, but was short-circuited and could not beat the count. Time was 2:24.
Broner gave another colorful interview after the fight. He's quickly becoming one of the sport's rising stars. At only 22, the 23-0 (19) Broner possesses frightening power at 130 pounds. He's someone who will need to be dealt with on the big stage in the not-too-distant future. Perez, whose stock doesn't really drop, falls to 23-1-2 (7). I have a feeling he'll be back in a big fight someday. And he's likely to catch a far more favorable draw than he did on this evening.
—-
Thanks for checking out our coverage for the Alexander-Maidana and Broner-Perez results. How will these performances affect these fighters and the future courses of their careers? Come back later in the weekend for more post-fight coverage and analysis from Arch Enemies, Broner vs. Perez and Alexander vs. Maidana.