Alexander Povetkin (26-0, 18 KO's) has finished his preparations for his fight against world Heavyweight champion Wladimir Klitschko (60-3, 51 KO's). Shortly before the mega-fight in Moscow, Povetkin took some time to answer a few questions for this Q&A interview, where he displays his confidence that he'll win big on Saturday night.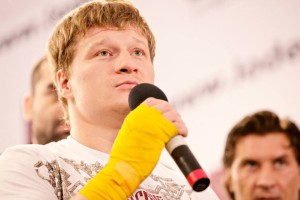 Mr. Povetkin what do you expect for a fight on Saturday?
Alexander Povetkin: The fans around the world have waited very long for this fight. I think this is an interesting fight with a high entertainment value. I'm not a boxer who makes great predictions in advance. I go into the ring and fight to the end. I am ultimately going to be the winner no matter whether we are talking about one or twelve rounds.
What are the strengths of Wladimir Klitschko and how will you handle it?
Alexander Povetkin: His greatest strength is the jab. He wants to keep the enemy at bay and not necessarily trying to knock out his opponents. I have to search for the in-fight, and then I can get him.
This is the biggest heavyweight fight in recent years. What does it feel like to be here?
Alexander Povetkin: There is nothing greater than a proper World Heavyweight Championship. It was always my dream to be the number one heavyweight. I can now fulfill this dream in the fight against Wladimir Klitschko.
You had a very successful amateur boxing career, 2003 World champion and 2004 Olympic gold medalist …
Alexander Povetkin: Yes, that's right. The highlight was winning the gold medal at the Olympic Games 2004. Then I have my former coach Valeri Belov asked if he could help me to get into professional boxing. For me there was no more reason to stay amateur. Because I had achieved everything there was to do. The alternative would have been a coaching career to promote young talent. But that is still an option after my active boxing career.
In 2011, you defeated the former WBA champion Ruslan Chagaev in Erfurt and became world champion. What does this title mean to you?
Alexander Povetkin: While I have the championship belt, for me, I can only call myself world champion when I've beaten Wladimir Klitschko and taken his belt. Then I am the 'real' world heavyweight champion.
Comments
comments