The main event for Saturday, July 14 is probably the David Haye vs. Dereck Chisora clash in London, but Hamburg sees world heavyweight title action as Alexander Povetkin defends his WBA strap against #1 contender Hasim Rahman in a match originally intended to serve as the junior co-feature for the aforementioned bout. This fight lacks the bad blood drama or cross-town rivals angles of Haye-Chisora, and the title belt at stake is almost meaningless because not only is Wladimir Klitschko the acknowledged top dog of the division, but the big Ukrainian is also the WBA "Super Champion."
Even so, Povetkin vs. Rahman promises to be an entertaining match-up, and European boxing fans who don't feel like paying PPV rates to watch the British fight might want to tune in and see this German bout for free. If you can't watch the fight live, try to catch the replay.
Hasim Rahman (50-7-2, 41 KOs)
6'2 1/2″ tall, 82″ reach, 39 years old
Five-fight weight average: 263 lbs
American
Former WBC-IBF Heavyweight Champion
Rahman is an aging survivor of the same generation of heavyweights as the Klitschko brothers. Many view his main claim to fame as the upset win over Lennox Lewis, where Rahman was lucky enough to catch Lewis under-trained and at high altitude. Yet "The Baltimore Knucklehead" was one of the more rugged competitors of the '00's era, and if nothing else, the man has experience by the bucketful.
"The Rock" came to boxing late, and therefore never really developed a full set of skills. He has freakishly long arms and good power, and has developed a stiff jab and a hard right hand to make the most of those attributes. Rahman has also displayed some top notch footwork when the need arises. Against that, his uppercuts and hooks remain awkward, he has some stamina trouble in later rounds, and a merely average chin. He comes forward behind a high guard, and often practices the "1-2-clutch" style of heavyweight boxing.
Alexander Povetkin (24-0, 16 KOs)
6'2″ tall, 75″ reach, 32 years old
Five-fight weight average: 229 lbs
Russian
(Fake) WBA Heavyweight Champion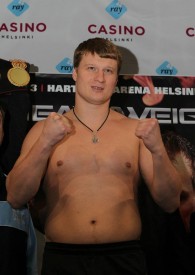 A competent and well-schooled boxer of the stand-up, Continental model, Povetkin is a shrewd operator and our #3-ranked heavyweight. He is an good, all-around boxer-puncher with no real weaknesses, but no stellar strengths either.
The Russian has scrupulously avoided a showdown with either Klitschko brother for years, preferring to bide his time until he could get a shot at whatever half-respectable title belt that was not inside the orbit of the Ukrainian binary system. As it turned out, that belt was the fraudulent WBA "regular" title. Povetkin won the belt in a decent enough fashion, vanquishing the solid Ruslan Chagaev. Since then, he has fought a journeyman and Marco Huck, a cruiserweight champ. Despite out-weighing Huck by 20 lbs and being the biggest man Huck had ever fought, Povetkin still struggled against the able, smaller man.
Analysis
A few years ago, I might have picked Rahman as the odds favorite in this fight, but that was a few years ago. Rahman is now pushing 40, and hasn't fought an opponent above the tomato can level since his crushing 2008 stoppage at the hands of Wladimir Klitschko. Furthermore, the Rock has hardly been chiseled from granite in any of these less-than-challenging fights. In his prime, a fit Rahman always weighed in at under 245 lbs, so keep that in mind and look at his five-fight weight average. His last bout saw Rahman tip the scales at a flabby career high of 284 lbs! For a guy with late-fight stamina issues, his conditioning doesn't look good, and that isn't the sort of thing a 39 year old man can make up for in just one training camp.
For Povetkin's part, he has the skills and movement to circumvent Rahman's long reach, but nothing that really threatens the Baltimore Knucklehead. Rahman has a propensity to get knocked out by big punchers, but Povetkin is hardly that. His path to success lies in patiently banking round after round through dull-but-competent boxing. If he tries to slug it out with the Rock, or goes for the knockout once Rahman gets tired, he might be in for a rude surprise. Povetkin has never fought anyone with even half of Rahman's punching power.
Povetkin vs. Rahman Prediction
Rahman might not be as tall as a giant heavyweight, but he has the sheer size and reach of one, and that in and of itself poses a tricky situation that ought to give Povetkin some trouble in the early rounds. The problem for Rahman is that I doubt he can capitalize on it well enough to seize and retain control of the fight. Povetkin's problem is that even if he can find Rahman's chin, he lacks the power to dent it. Povetkin will find his groove, ply it competently, and win most of the rounds.
The latter third of this fight should be all Povetkin. In my book, Rahman has only a puncher's chance, but a good one. If Povetkin gets cocky, Rahman has the stuff to put the Russian's ass on the canvas. That looks unlikely, however. Povetkin is just too cagey for that.
If for some reason Rahman proves to be more of a live opponent than I expect, he still loses. I can't see him stopping Povetkin without the Russian making a major tactical blunder, and this fight is scheduled for a German arena. Any close decision automatically defaults to Povetkin, one way or another.
Prediction: Alexander Povetkin UD12 Hasim Rahman
Comments
comments