Amir Khan wants Broner
Amir Khan made a sensational comeback, taking just 39 ­seconds to destroy Phil Lo Greco in Liverpool on Saturday night. Khan put on a brilliant performance, demonstrating his class and looked comfortable after two years out of the ring. Khan speed was too overwhelming for Lo Greco from the get go and caught the Mexican with a good shot to put him off balance. Furthermore, after the fight Khan admitted he wants to be involved in the big fights and will be interested in a bout with Adrien Broner, who has impressively been a world champion at four different weights.
Brook can wait
Sheffield star Kell Brook was ringside on Saturday for the Bolton man's first scrap in two years. Brook entered the ring and both fighters exchanged words with Brook challenging him to a long-waited clash. It is a fight the fans have been demanding for some time now.
However, Khan, 31 has other plans and said after the fight: "I'd like Broner next. Broner is a big name. That would be a great fight."
I want the big fights
"I honestly believe that could be a fight at 147lbs, which he is fighting at. That could be a title fight and I really would like that fight.
We are friends and we are not friends. It's business. I think he would take the fight.
The way I see him training, he is now more like a serious fighter. Let's see. It could be a fight that could happen. He has knuckled down now."
Khan is campaigning at the 147lb welterweight mark while Brook has given his body a favour, stepping up to fight regularly at 154lb, which is making the Brook-Khan fight difficult to make with both fighters wanting to fight at different weights.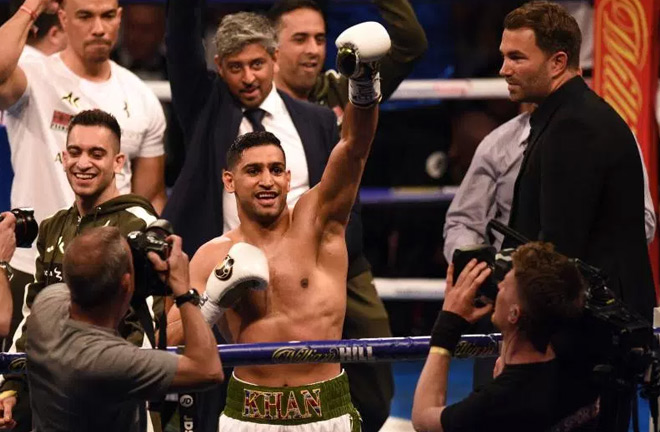 A draw against Jessie Vargas on Saturday in New York means Broner has not tasted victory since February 2017. Broner was fuming at the verdict and was slammed for making racist comments about Vargas' Mexican fans.
The 31 year-old still believes he will fight Brook one day. He added: "It's a fight that has to happen, 100 per cent. I want to give my fans all the fights they want to see." The reason behind Khan joining Eddie Hearn Matchroom was to chase Kell Brook.
"I AM CHASING YOU KELL" DOES AMIR KHAN MEAN BUSINESS?

Posted by Pro Boxing Fans on Tuesday, 24 April 2018
Video: Khan tells Brook 'I'm chasing you!' – It will be interesting to see who Khan fights later in the year, let us know your thoughts below!