Carl Frampton beat Kiko Martinez for the second time to capture an alphabet title on Saturday night in an arena built with him in mind. Fighting in 'The Jackal's Den' did not overwhelm the 27-year-old Belfastman as he put in an assured boxing performance to outmaneuver his Spanish foe. Now in possession of a title, Frampton is worthy of mention amongst elite circles in the super bantamweight division, where there are a number of potential rivals.
Here are the top four opponents for Frampton which have been mentioned, and how Frampton would fare in each scenario.
Guillermo Rigondeaux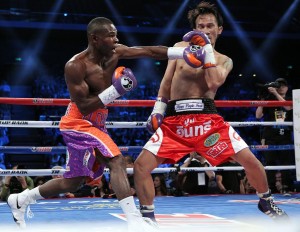 Threats and opportunities: Rigondeaux is a boxer supreme of Cuban schooling. He's very difficult to hit but is occasionally vulnerable and prone to being dropped.
Why fight Rigondeaux: The Cuban is universally accepted as evidently the best in the division, as well as being one of the best pound for pound in the world. Losing to him is no disgrace, beating him is the stuff of legend.
Frampton's chances: It's difficult to envisage a scenario where Rigondeaux is given a serious fight, but volume punching would be a start. Frampton has the engine and the accuracy, but does he have the intelligence to move Rigondeaux where he wants him? It's unlikely.
Leo Santa Cruz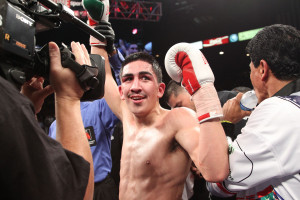 Threats and opportunities: The softly spoken Mexican is tall and relentless, with high endurance and a tolerant chin. He is, however, very open in his attacking style, and question marks remain over his power.
Why fight Santa Cruz: Santa Cruz is becoming a well-regarded name in the US and that name value would likely pass on to Frampton were he to beat him. Fighting Santa Cruz represents the chance for Frampton to cross over to the American boxing scene, and the two have already acknowledged the opportunity to put on a great fight with each other.
Frampton's chances: Against the equally intense yet harder hitting Martinez, Frampton has proven his superiority. Santa Cruz is extremely hittable and Frampton could out-box the marauding Mexican on the back foot.
Scott Quigg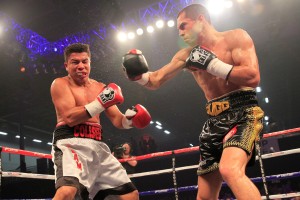 Threats and opportunities: Quigg is a fundamentally sound and versatile fighter with a strong punch, not totally unlike Frampton himself. The pair are involved in a war of words, which would add emotion and mental pressure to an already difficult fight.
Why fight Quigg: It's a huge domestic fight, plain and simple. This fight is probably the biggest there is in British boxing right now, and it would be an undoubted sell-out at the gate. The winner would receive huge coverage and, of course, important bragging rights.
Frampton's chances: Quigg is more precise and arguably a harder puncher than Frampton, but he is not as good on the back foot, not as fast and throws less. Frampton would probably beat Quigg to the punch to score victory.
Chris Avalos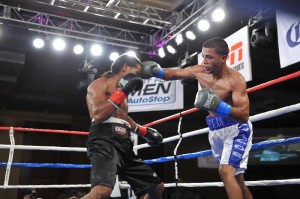 Threats and opportunities: Avalos has a good punch and an unorthodox attacking manner that makes him hard to predict. He is, however, untested at top level and one-paced.
Why fight Avalos: Avalos is the mandatory for Frampton's alphabet belt, meaning a fight between the two may happen whether Frampton wants to or not. Avalos is growing in repute, though, and beating him is not only entirely possible but also not totally insignificant for Frampton.
Frampton's chances: Frampton has a high chance of scoring a stoppage win here. Avalos can dig, but seems ponderous, meaning Frampton could out-box him, out-work him and ultimately stop him.