San Antonio, Texas will once again be the site of a major boxing event on Saturday, July 27 with "KNOCKOUT KINGS II," a spectacular night of world-class fights at the AT&T Center featuring a tripleheader starring some of the sport's brightest stars live on SHOWTIME.
In the 12-round main event, former Two-Time Welterweight World Champion Andre Berto is back in the ring to take on tough Mexican contender Jesus Soto Karass. Plus, unbeaten knockout artist Keith Thurman and fellow power-puncher Diego Gabriel Chaves battle for Chaves' WBA Interim Welterweight World Championship and Weslaco, Texas' undefeated rising star Omar Figueroa Jr. squares off against Tokyo's Nihito Arakawa for the vacant WBC Interim Lightweight World Championship.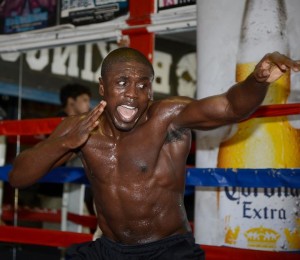 "Texas is our new home away from home and it's great to be returning so soon after the Alvarez-Trout mega event in April," said Oscar De La Hoya, President of Golden Boy Promotions. "That event proved that boxing is alive and well and on July 27, we're going to have another stacked card that will pack the AT&T Center."
"Leija-Battah Promotions is thrilled to be co-hosting another SHOWTIME CHAMPIONSHIP BOXING event in San Antonio in collaboration with Golden Boy Promotions," said Mike Battah, President of Leija & Battah Promotions. "The people of San Antonio and Texas demonstrated their affinity for boxing on April 20 at the Canelo vs. Trout sell-out event and we look forward to hosting multiple mega-fights yearly."
"We have always dedicated ourselves to providing the people of San Antonio and all of South Texas with a broad variety of first-class sports and entertainment events at the AT&T Center," said Rick Pych, Spurs Sports & Entertainment President of Business Operations. "San Antonio is a city that truly appreciates and supports boxing in a big way and this is a terrific opportunity for fight fans to witness three world-class bouts in an arena setting."
A member of the 2004 Haitian Olympic team, Andre Berto (28-2, 22 KO's) turned pro later that year and has never looked back. A throwback fighter willing to go into the trenches to put on exciting bouts for his fans, the 29-year-old from Winter Haven, Florida first struck professional gold in 2008 when he stopped Miguel Rodriguez in the seventh round to win the WBC Welterweight World Championship.
Berto successfully defended the crown five times before losing it to Victor Ortiz in The Ring Magazine's 2011 Fight of the Year. He bounced back five months later to defeat Jan Zaveck for the IBF Welterweight World Championship. In his most recent bout, Berto engaged in a fight of the year candidate against Roberto Guerrero, losing a hard fought 12-round decision last November.
"It's been a long time since I've fought in Texas and I'm happy to be back fighting in front of the great fans here," said Berto. "I'm hungrier than ever to get my title back and the first step is taking out Soto Karass on July 27."
One of the fight game's most rugged competitors, Los Mochis, Sinaloa, Mexico's Jesus Soto Karass (27-8-3, 17 KO's) always gives a supreme effort in the ring and, win or lose, his opponents never emerge from their fights with him unscathed. Fresh off of a January win over Selcuk Aydin, the 30-year-old Soto Karass hopes to add Berto's name to a list of vanquished foes that includes Euri Gonzalez, Said El Harrak, Vince Phillips, David Estrada and Chris Smith.
"I respect what Andre Berto has done in his career and he's a tough fighter, but a win over him would be the biggest of my career," said Soto Karass. "If I want to get a world title shot, I have to go through him to get it."
A crushing puncher with a 90% knockout rate, Clearwater, Florida's Keith "One Time" Thurman (20-0, 18 KO's) has raised his worldwide profile considerably since returning from a year-long injury induced layoff in 2012. Since then, Thurman has gone 5-0 with four knockouts, with wins over Brandon Hoskins, Orlando Lora and former World Champion Carlos Quintana. In his last fight in March, the 24-year-old scored a shutout win over former World Champion Jan Zaveck and on July 27, he challenges for his first world title.
"I'm looking forward to fighting for an interim title and doing it against someone like Chaves," said Thurman. "I'm not going to have to chase him or get him to fight. We're going to battle and I'm going to be the last man standing."
The latest in the line of hard-hitting standouts from Argentina, Diego Gabriel "La Joya" Chaves (22-0, 18 KO's) shares a similar fighting philosophy with his opponent, Thurman: to end matters as soon as possible. Currently sporting a five-fight knockout streak, the 27-year-old Chaves won the WBA Interim Welterweight World Championship in July of last year with a second round knockout of Ismael El Massoudi and defended it two months later with an identical result against Jose Miranda. Now he's back to fight in the United States for the first time since 2010.
"I appreciate the opportunity to fight in the United States and against someone with a great reputation like Keith Thurman," said Chaves. "We're proud people and proud fighters in Argentina and I'm going to show this to the world on July 27th."
Adding to the knockout theme on July 27 is Texas' own titan, Weslaco native Omar "Panterita" Figueroa Jr. (21-0-1, 17 KO's), who has ended four of his last five wins with first round knockouts. In April, the 23-year-old thrilled his home state fans with a first round knockout over then unbeaten top prospect Abner Cotto, winning the NABA and WBC Interim Silver Lightweight titles in the process. He will draw on the energy from a San Antonio crowd for his third consecutive fight when he fights for his first world title against Arakawa on July 27.
"For me there's nothing like fighting at home in Texas and the fans of San Antonio have pushed me to new heights in my last two fights," said Figueroa. "I'm looking forward to giving them another big knockout win."
Fighting out of Tokyo, Japan, 31-year-old southpaw Nihito Arakawa (24-2-1, 16 KO's) is a nine-year veteran guaranteed to give Figueroa some looks he has never seen in the ring before. A Japanese and OPBF lightweight champion, Arakawa has won 11 of his last 12 bouts, most recently dispatching Pakphum Tor Pornchai in two rounds on May 4. On July 27, he'll enter hostile territory with the goal of pinning a "1" on Figueroa's loss column.
"I'm looking forward to fighting in the United States for the first time against a tough opponent like Omar Figueroa," said Arakawa. "I'm coming here to put on a great show and take the title back to Japan with me."
Tickets priced at $200, $100, $50, $25 and $10, plus applicable taxes, fees and services charges, go on sale Friday, May 17 at 10:00 a.m. CT and will be available for purchase at the AT&T Center box office, online at www.ticketmaster.com and www.ATTCenter.com, all Ticketmaster locations by calling (800) 745-3000 or through Leija & Battah Promotions by calling (210) 979-3302 or emailing m@leijabattahpromo.com.
The event marks the return of co-promoters Golden Boy Promotions and Leija & Battah Promotions to San Antonio where they recently promoted the April 20 blockbuster fight between Canelo Alvarez and Austin Trout which had almost 40,000 fans in attendance.