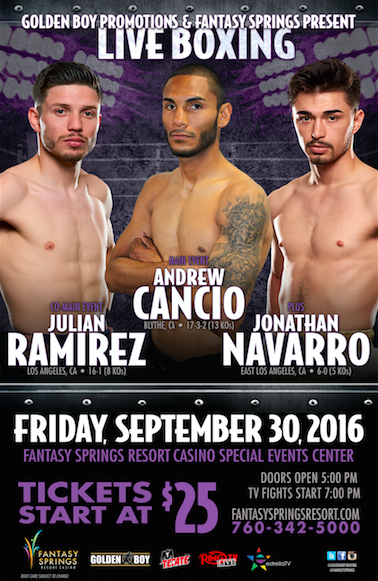 After two thrilling victories at his second home at Fantasy Springs Resort Casino, Andrew "El Chango" Cancio (17-3-2, 13 KOs) of Blythe, Calif. will return to on Saturday, September 30 to fight in a 10-round featherweight main event. The 27-year old standout previously defeated Nicaraguan warrior Rene "Gemelo" Alvarado and former two-time world champion Hugo Fidel "El Increible" Cazares via knockout at the venue and excited the Coachella Valley boxing fans.
In the televised co-main event, Julian "El Camaron" Ramirez (16-1, 8 KOs) of East Los Angeles will make his highly anticipated return after a exhilarating battle on the Francisco Vargas vs. Orlando Salido undercard on June 4. The stellar featherweight fighter, who has already garnered a huge fan base in Southern California, will return to Fantasy Springs Resort Casino for the second time in his career in a sure non-stop action 10-round featherweight event.
"Fight fans can get ready for another thrilling night of action-packed boxing events featuring rising stars in the sport," said Oscar De La Hoya, chairman and CEO of Golden Boy Promotions. "Andrew Cancio has been on a knockout streak for the past year, taking down powerful opponents such as Hugo Fidel Cazares and Rene Alvarado. We expect to see great things from this talented fighter when he fights as the main event. Co-headlining this card, we have fan favorite Julian Ramirez, a tough, ruthless fighter who is eager to get back in the ring and put on a spectacular show to make a name for himself come September 30 at Fantasy Springs Resort Casino."
Golden Boy Promotions has also put together top boxing prospects for the non-televised undercard, which will stream live on RingTVLive.com. First, Bastie Samir (14-0-1, 14 KOs) of Las Vegas will fight in a six-round super middleweight match and East LA's Jonathan "Thunder" Navarro (6-0, 5 KOs) will participate in a six-round super lightweight fight. Opponents will be announced shortly.
Tickets go on sale, Friday, August 5 at 10:00 a.m. PT and are priced at $25, $35 and $45 and available for purchase now at the Fantasy Springs Box Office, by calling (800) 827-2946 or online at www.fantasyspringsresort.com.
Blythe, Calif. native Andrew "Chango" Cancio made his professional debut in 2006, remaining undefeated for ten bouts before his first loss. Cancio's power has brought him thirteen of seventeen wins by way of knockout, a strength he brought to the ring against Hugo Fidel "El Increible" Cazares in March by taking the knockout victory in the third round. With this impressive win, Cancio hopes to pursue his goal of becoming a featherweight world champion as he fights at Fantasy Springs Resort Casino for the eighth time in his professional boxing career.
The great nephew of boxing legend Genaro "Chicanito" Hernandez, East LA's Julian "El Camaron" Ramirez picked up the family business as a youngster and quickly made a name for himself on the amateur scene. Yet despite his amateur success, it was clear from the moment that he made his professional debut in 2012 that his destiny was to become a world champion. After a heart wrenching loss this past June for the NABF title to Abraham "El Chamaco" Lopez as the co-main event to Francisco Vargas vs. Orlando Salido on HBO Boxing After Dark®, Ramirez will be returning to the ring with a vengeance to gain a victory and prove he is one of the best fighters in the featherweight division.
Hailing all the way from Ghana, Bastie Samir now calls Las Vegas his home and is eager to make a name for himself as a powerful super middleweight fighter. So far, Samir has maintained an undefeated status and is hopeful to keep it that way as he fights for the second time at Fantasy Springs Resort Casino, when he knocked out opponent Greg Hackett in the first round. With a 93% knockout record, fight fans can expect to see Samir's power and strength come September 30.
Jonathan "Thunder" Navarro representing East Los Angeles has lived up to his nickname thus far, as the 19-year-old has ended five of his six wins by knockout. Having most recently taken down Marc Torres by way of technical knockout on June 4 at The StubHub Center on the undercard of Francisco Vargas vs. Orlando Salido, this fan favorite is hungry to make a name for himself in the boxing scene by fighting at Fantasy Spring Resort Casino for the very first time. As the nephew of former boxing Olympian Jose Navarro, "Thunder" has boxing his in his blood and hopes to keep up the family tradition of big victories and sensational knockouts come September 30.