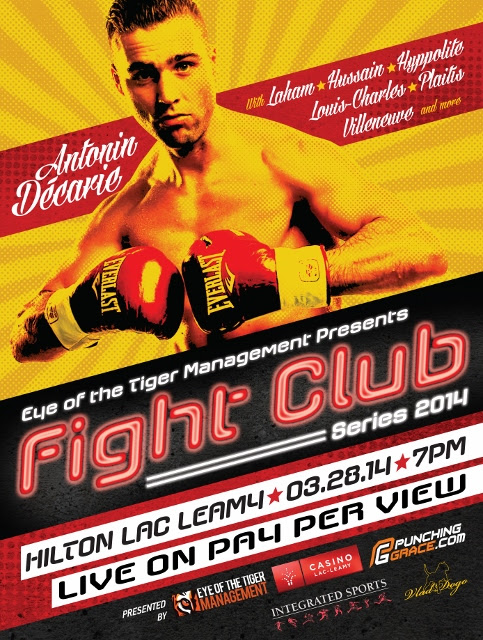 Antonin Decarie (29-2, 9 KOs) will headline the seventh installment of the popular Fight Night Series on March 28, airing live on pay per view from Lac Leamy Casino in Gatineau, Ontario, Canada.
"We're very excited to market Punching Grace and our fighters to 70-million potential households in the United States on all major cable and satellite outlets," EOTTM president Camille Estephan said. "Our series is old school boxing in an intimate environment. Punching Grace brings real-life boxing to viewers. They're close to the action in the ring, as well in the back area before and after fights.
"By airing our show in the US on pay per view, we are able to showcase our top fighters like Antonin Decarie, as well as build young fighters on our own network, in HD to a much larger audience. It is the way of the future. We have made an investment in technology and its quality production offers viewers behind-the-scenes access in locker rooms before and after fights. Our plans also include fan interaction. We've been developing a network of sports bars around the world that air our fights, as well as press conferences, weigh-ins, training sessions, interviews and much more. Eventually, Punching Grace will be a full entertainment network, not just for boxing."
Decarie, the popular Quebec boxer who is rated No. 9 by the World Boxing Council (WBC), takes on former Mexican welterweight champion Pablo "Sepulturero" Munguia (19-4, 11 KOs) in the 10-round main event. Decarie's last fight was an impressive second-round stoppage of Cesar Chavez (21-5) this past month.
The French-Canadian boxer has won two in a row since he dropped a 10-round decision to Luis Carlos Abregu (34-1, 28 KOs) last April for the vacant WBC Silver Championship. Manguia has won three straight, including a 10-round decision over previously unbeaten Canadian-based Samuel Vargas (15-0-1) last December in Mexico.
In the 10-round co-feature, Lebanese-born Montreal super featherweight Baha Laham (12-1-2, 5 KOs) faces southpaw Roody Pierre-Paul (8-1, 5 KOs) for vacant WBC Continental Americas title.
The undercard will feature many of Canada's most exciting prospects including Schiller Hyppolite (8-1, 5 KOs) vs. Georgian super middleweight George Beroshvili (8-1, 5 KOs) in a 10-round bout; lightweight Chris Plaitis (5-0-1) vs. Jesus "Diamante" Perez (4-2, 2 KOs) in a six-round match; super middleweight Pascal Villeneuve (3-0, 2 KOs) vs. Francois "The Tank" Miville (6-1, 2 KOs) and Mitch Louis-Charles (3-1-1, 2 KOs) vs. Guillaume Coude (2-0, 1 KO), cruiserweight Samer Baraket (2-0, 2 KOs) vs. Sandy Pembroke (3-7, 1 KO), and heavyweight Zack Bunce (2-0, 1 KO) vs. Steven Harvey (4-1, 2 KOs) in four-round fights.
Fight Club Series, presented by Eye of the Tiger Management (EOTTM), is being distributed in the United States by Integrated Sports Media for live viewing at 7:00 p.m. ET – 4:00 p.m. PT on both cable and satellite pay-per-view via DIRECTV, iN Demand, DISH, and Avail-TVN. The event may also be watched worldwide on PPV at www.PunchingGrace.com.